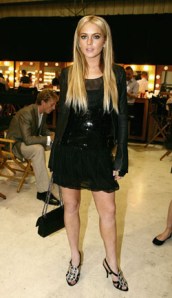 When Ugly Betty star America Ferrera told Total Request Live last month that Hollywood's out-of-control young things should stop partying and "get a job," she probably didn't mean a job on her own show. Or did she?
According to a source on the set of Betty, which airs on ABC, cast and crew have been excitedly gossiping that embattled actress Lindsay Lohan is in "serious talks" to take on the role of a fallen beauty queen who takes a gig as the assistant manager of the fast food chain where Betty's dad toils.
"Everyone's very excited," the source said. "Of course it brings a lot of attention to the show, and it's a great part for Lindsay."
The role is apparently part of a three-episode arc during which Betty befriends Ms. Lohan's character, who has fallen on tough times since high school. The ravishing redhead has had a difficult year herself, recently completing her latest stint in rehab at Utah's Cirque Lodge after racking up two consecutive DUI's this summer.
"It sounds really cute," our spy burbled of the new opportunity, which of course might be jeopardized by the ongoing Writers Guild strike. "Betty tries to help Lindsay's character by getting her a job at Mode, the fashion magazine where she works on the show."
Ms. Lohan's rep, Leslie Sloane Zelnik, didn't return calls. But her notorious client could surely learn a thing or two from Ms. Ferrera, who took home an Emmy last year for her comedic portrayal of the lovable Betty Suarez. "I can't get into trouble because I'm working all the time," she told Damien Fahey. "I'm too busy working and focusing on what I'm doing to be out partying."