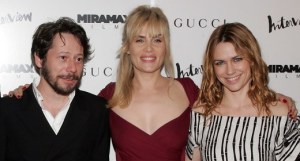 Last night, Mathieu Almaric was talking to The Daily Transom about starring in The Diving Bell and The Butterfly.
"You don't choose a film, the film chose me," he said.
The film that chose Mr. Almaric chronicles the story of Jean-Dominique Bauby, the vibrant, stylish editor of French Elle who, 12 years ago, became forever trapped in "locked-in syndrome" after suffering a stroke. The former editor was left almost fully paralyzed, able to only blink his left eye, yet by using this one movement in accordance with an alphabet, he managed to transcend his condition and communicate his experience through a best-selling memoir.
Among the people present last night to celebrate the movie's premiere was Ronald Harwood, the writer on the film (who incidentally won an academy award winner for writing The Pianist.) "I always thought it was the most marvelous document to triumph [in] adverse circumstances, I mean, dreadful circumstances, and that's what intrigued me," he said of the memoir on which his screenplay is based.
Mr. Almaric plays "Jean-Do" in the film.
"I read the book, the sense of humor of this guy, I tried to keep that, it's not because you have a stroke that you become a saint," he said. "So [I was] trying to keep him alive and complex, and he was also just, a man, you know, he liked beautiful cars, attractions. Also the woman, he'd make them believe that they were the only one, show them, you know, stupid mannish stuff. I tried to keep that, so did [director] Julian [Schnabel]."
Also there were his costars Emmanuelle Seigner, who showed up sans husband Roman Polanski in a burgundy Celine dress and boots, and the equally stunning Marie-Josée Croze, who wore a white Gucci shift-dress and patent-leather mary janes.
"[I've worked with] a lot of beautiful actresses, you know," Mr. Almaric said. "It was nice because I had to work in bed, and they weren't afraid of me, because they thought I couldn't move any more, so sometimes they were, you know, on top of me."
He added that he if he could be anyone he wanted he would choose another man famous for wooing models and actresses: "A rock singer–no, a guitarist, electric guitar: Jack White."
Mr. Almaric is perhaps best known for his role in Munich, and it was on the last day of filming that movie that he got a copy of the script for Diving Bell."You know, I knew Julian Schnabel's work and on the last day of shooting of Munich, Kathleen Kennedy gave me this script and Julian had seen me in a film," he said. "So we made the connection and he said yeah, why not him?"
And why not Julian Schnabel, self-proclaimed art lover Petra Nemcova seemed to suggest when we bumped into her at the premiere, wearing a barely-there black tuxedo-inspired Dolce & Gabbana dress and hat.
"He's totally incredible," she said of Mr. Schnable. "[He] really takes it to another level… his vision is very artistic, and it's very mind opening."
The Czech model added that she is flying to Europe today to see another love, a mysterious European whose identity she is keeping secret for now.