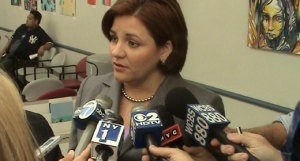 Hope is all but extinguished for council members looking for a last-minute reprieve from term limits.
"I think some of us, including myself, put off thinking about another office, hoping that a miracle would happen," said Councilman Peter Vallone Jr. of Queens. "And by miracle, I mean a referendum that would actually pass muster with the voters that would extend our terms."
In the first years under City Council Speaker Christine Quinn, there was a persistent story line that at some point, she would have to live up to a quiet promise she made to council members to help overturn, or at least adjust, the rule limiting them to two four-year terms.
But as illustrated by the ever-expanding list of term-limited council members declaring their candidacies for higher office ahead of 2009, when the terms of 36 of the 51 members will expire, it looks like time has finally run out.
"At the end of the last term I think there was a consensus that the fair compromise was going to be three four-year terms," said Councilman Bill de Blasio of Brooklyn. "It just became clear that it was not a positive environment even to seek some middle ground. And I don't think that was clear in 2005. In 2005, it was fair to say maybe there was some compromise out there. But by 2006, it was clear there wasn't going to be a compromise. And I think for a lot of us, it just became time to start making some other plans."
Mr. de Blasio is now running for Brooklyn borough president.
Mr. Vallone, who is raising money for an expected bid for Queens borough president, said, "It was a big topic when the speaker was elected, and it has kind of fallen by the wayside. I think political reality probably set in."
Ms. Quinn told reporters last month, "We obviously, myself and my colleagues, have to come to a final decision soon." Although that left enough wiggle room to spawn a new round of stories speculating about a late bid to change the rules, lawmakers said it was never seriously discussed.
"If we discuss it, it ends up in the papers or on your blog," Councilman David Weprin said. "Then it becomes a whole lobbying thing back and forth before it's ripe."
But still, Mr. Weprin, who is running for comptroller, still sees an opportunity to change things.
"I still think there is going to be a move to change it, to be honest. There's plenty of time to get a referendum on the ballot for '08. That's what I would be looking to do. And there is still time to do a legislative tweak, in '09," he said. (He added that he wouldn't support that method.)
"Well, I think that may be true," said Councilman John Liu, referring to the possibility of a referendum, "but who the hell is going to vote for it?"
He added, "Eight is all I need, and eight is probably all I can take."