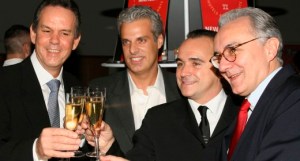 Last night, Thomas Keller, the chef and owner of impossible-to-penetrate gastronomical temples like Napa's French Laundry and New York's Per Se, said he finds the recent celebrity-chef trend rather capricious.
"I think today it's certainly created some challenges for some of the younger chefs that really want to be celebrity chefs. And therein lies a little bit of a dilemma for them," Mr. Keller told the Daily Transom at the March of Dimes Gourmet Gala, which was being held in his own Per Se—a maze of rare and obviously-expensive materials cobbled together in a corner of the Time-Warner Center's fourth floor. The eatery's views likely match his pricey fare; its obligatory nine-course tasting menu, which is also offered in a meatless version, costs $250 before booze.
When Mr. Keller, a tall and thin paternal-seeming man of 55, started cooking some 32 years ago (not long after Alice Waters opened Chez Panisse), the notion of a celebrity chef was all but unheard of. It's true; in the mid-1970s, the very idea of watching or producing a show like Bravo's cult series Top Chef, which finished airing its third successful season last month, would have seemed alien at best. In Mr. Keller's view, the growing trend was sparked by two things: the public's unquenchable interest in food, and, of course, the media, which began spotlighting some of the personalities responsible for their carnal fascination. "We're just kind of a byproduct of it," he said. "It's an awkward thing, for me anyway, because it's not something that was the reason I started cooking."
According to Mr. Keller, no longer are critically-acclaimed chefs allowed—as they might have been even ten years ago—to call it a day after opening a single successful restaurant. Instead, he said, food wizards like him are thrown into another, more dynamic arena—one where they're expected to pen best-sellers, give lectures, judge reality TV shows and host benefits like the one he gave last night.
"The responsibility that we have is much greater, and I think that to be able to show that responsibility with respect and integrity is the biggest challenge," he admitted in an out-of-view bussing station, which was still pleasantly-lit and paneled in some kind of luxurious burled wood. "I think if you can do that, then you can have credibility in who you are and what you're doing."