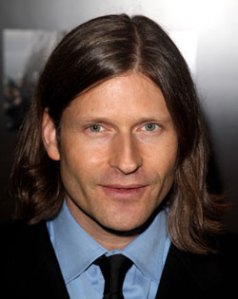 The actor Crispin Glover's interest in the disabled, illustrated in his 2005 film What Is It? and in the just-released It is Fine. Everything is Fine!, goes back to when he attended Mirmin, a private school in Los Angeles for kids with high I.Q.'s.
"I remember for whatever reason they would have these basketball games for the school that was for people that were disabled in one way or another, and they would play wheelchair basketball," Mr. Glover said over ice water at the Flatiron district "affair restaurant" Punch on Monday, Nov. 19. "I felt there was an interesting dramatic element for the disabled people involved."
The screenplay for Everything is Fine! was written by Steven C. Stewart, who has cerebral palsy, and includes several graphic sex scenes. The actor-director said his artistic intention included "dealing with the various taboo elements," and that a third film is planned, likely using many of the actors with Down Syndrome featured in What Is It?
In the meantime, Mr. Glover, 43, has been touring Everything Is Fine! around the country, offering slide shows and a Q&A period, usually wearing a white shirt, black suede jacket and black Dickies (no wrinkles!). "I'm a very adept traveler at this point," he said. "I have one suitcase that has the film. And one suitcase for clothes and what have you. I'm a very careful packer. I roll certain things up."
He's figured out that promoting his films this way has some excellent tax benefits and recommended the computer program Quicken as a good way to keep track of business expenses.