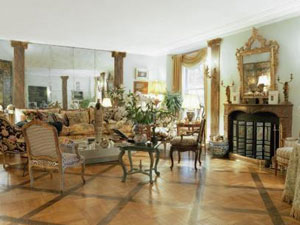 Octogenarian Frederick Eberstadt, a photographer and psychotherapist, is the kind of New Yorker who went to Exeter with Gore Vidal, joked with Avedon about Diane Arbus at Arbus' funeral, prefers knit underwear, and has called family friend Andy Warhol a "little faggot with his impossible wig."
He and his wife, Isabel, poet Ogden Nash's daughter, are icons of a Park Avenue that was richer, chicer, artier and more perfectly coiffed than it ever will be again. But Ms. Eberstadt died late last year, and her widower has sold their longtime apartment at 791 Park Avenue to Alexandra Heyman Nash (no relation), a children's photographer.
According to city records, she paid $6.7 million.
"I don't know what to tell you about it! It was a 12-room apartment," the listing broker Eva Mohr from Sotheby's International Realty told The Observer. When pressed, she said that it's a second-floor apartment with its own separate entrance—"where you could go into the apartment from the lobby."
And there's a stenciled-floor living room with a wood-burning fireplace, where one of Warhol's gold Marilyn Monroe portraits apparently was once hung. But despite all that, and despite the chef's kitchen with a separate butler's pantry and breakfast room, the apartment had been listed since March 2006, according to the Web site StreetEasy.
A marketing shot of that fancy-floored living room looks like a Diana Vreeland-era Vogue photo spread—which makes sense, considering the family's old uptown art-world ties: "It was the inaugural gala and they were all there," Time wrote in 1965, "from a pride of Rockefellers to Mrs. Fred Eberstadt in her Yves St. Laurent black mink-and-vinyl coat."
Their novelist daughter Fernanda went to work for Warhol when she was a schoolgirl. According to the artist's dairies, Mr. Eberstadt once rang Mick Jagger's doorbell around dawn looking for his teenage daughter.
But an apartment at 791 Park would be posh even without a Warhol portrait, or Warhol himself, hanging in the living room. In 1958, four years after the Eberstadts got married, the New York Court of Appeals ruled that co-op boards were allowed to freely choose "with whom they wish to share their elevators," after a turned-down attorney sued 791 Park.