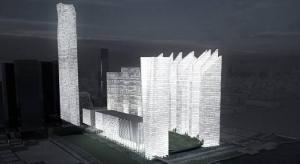 Extell Development's architect, Steven Holl, came up with the idea of building a very low suspension bridge over the West Side Rail Yards instead of a deck that would be supported by piers scattered among the tracks. That way, workers would only have to tinker along the north and south edges of the site, leaving the rail yards to function normally underneath them.
"I think we are the only project that is really minimally invasive with the Long Island Rail Road, with the MTA operations, and I think we will have a much lower cost of construction as a result," said Extell's founder Gary Barnett. "You know you don't have to put a billion dollars or more into a platform up front."
The concept itself is so unusual that it has a patent pending. Although one of Mr. Holl's engineers, Ted Zoli, said that the suspension bridge could carry heavy loads, the buildings are all arranged on either side, creating high walls along a gentle valley. (The plan is online here.) Running east-west down the center of the valley would lay a reservoir that will collect storm run-off and will fill and empty depending on the amount of rain. (So much for pick-up soccer games; on the other hand, winter skating is a real possibility.) The tallest tower will reach almost to the height of the Empire State Building (1,250 feet) and have three legs.
The result is a higher open space ratio than the other four contenders for the MTA-owned yards: 75 to 25 percent. (Laurie Olin is the landscape designer.)
The environmental features, Mr. Holl said, meet or exceed PlaNYC goals. However, Extell would designate just 300 to 400 apartments as affordable, according to the team. That number likely comes to less than 10 percent of the 5.5 million square feet (roughly 5,500 apartments) that the developer would devote to residential space. The remaining 5.5 million square feet would be office space, and a pier would run from the end of the High Line out into the Hudson River, creating a natural location for a ferry terminal. Another Long Island Rail Road station is also an option.