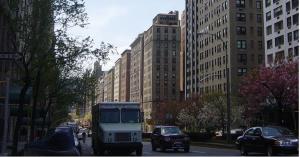 The Wall Street Journal this morning asked the eternally burning question: Will Manhattan home sales drop like sales have been dropping in other markets around the country?
The Journal cites a Corcoran Group analysis which showed a 9.9 percent year-over-year September drop in the number of Manhattan home sales going to contract.
That got us to wondering: What do the borough's home sales usually do in September? The answer is they go up–or they go down.
The Observer looked at the last 10 fourth quarters of condo and co-op sales in Manhattan, as determined by appraiser Miller Samuel, a division of Radar Logic. The fourth-quarter numbers reflect closed deals from October through December–but these deals were made months before, including in September.
In five of the last 10 fourth quarters, the number of closed Manhattan condo and co-op sales dropped year-over-year, suggesting that the number of sales going into contract also dropped before the quarters.
Perhaps then it's not too surprising that the number of Manhattan home sales going to contract dropped year over year this September–the summer months are traditionally slower for signed contracts and sales generally pick up in the fall when would-be buyers return full-time to the city.
Still, make no mistake: As the Journal rightfully points out, the writing's scrawled all over the wall–jitters about the scope of Wall Street year-end bonuses; higher inventories of unsold homes; tighter mortgage-lending practices. The times are a-changing, but it will take more time for everything to shake out and for a serious look-back to be done.
For one thing, Manhattan is about to finish 2007 with an absurdly high number of home sales–over 10,000, a feat not reached since the late 1980's at least. And prices remain high, especially on the luxury end. The price-per-foot for luxury Manhattan housing hit a record of $2,009 in the third quarter ending Sept. 30, according to Miller Samuel.
So, now may not be the best time to assess the madness. Too many good signs mingle with the bad, and 2008 should be the year to take stock. Sit tight.