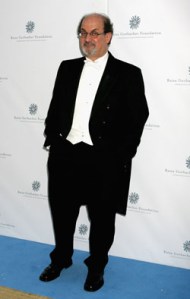 As the fall benefit season transitions into the holiday party season, and the trays of butlered hors d'ouevres start to look depressingly similar, few New Yorkers, save the city's camera-loving socialites, can lay claim to having attended as many events of late as Sir Salman Rushdie, the 60-year-old fatwa-surviving, Booker Prize-winning author, knight and soon-to-be-ex-husband of a sultry Indian model almost half his age who hosts a cooking show on a cable television network.
The lass, 37-year-old Padma Lakshmi, recently gave a rambling interview to Vanity Fair that included such tableaux as her sucking sauce off her fingers while eating ribs at an aggressively trendy West Village lounge. She also corrected a gossip column's publishing of her bra size by telling Vanity Fair's Nancy Jo Sales, "I said 34C, motherf—–!"
If the rumors are to be believed, which Ms. Lakshmi insists they are not, Mr. Rushdie was forced to act after Ms. Lakshmi started seeing another much older man, perhaps the billionaire Ted Forstmann; the author's statement to Reuters, in July, said simply: "Salman Rushdie has agreed to divorce his wife, Padma Lakshmi, because of her desire to end their marriage."
In that light, then, Mr. Rushdie's gallivanting around the globe in search of the next round is not all that surprising, though the vim with which he has approached newfound singledom is breathtaking. Though the bulk of his partying takes place in New York, where he has a home, he's also popped up in several other cities around the world. All of this, when he doesn't even have a book to plug.
Increasingly, Sir Salman has been spotted with comely ladies on his arm, as he was on Nov. 11 when he handed out awards at the Mahindra Indo-American Arts Council Film Festival in New York; the woman was identified as "screenwriter Patrice Jorden," though IMDB failed to turn up any of the young lady's scripts. (She resembles nothing less than a younger, African-American version of Ms. Lakshmi.)
An attempt to piece together the past two months of Mr. Rushdie's life paints a picture of a man who seems to have decided that to get over his latest failed marriage (his fourth), the most felicitous approach would be to be sighted at as many parties, dinners and award ceremonies as possible, and also traveling to far-flung colleges, libraries and even high schools to give talks. (And who knows? After all, the groupies who show up to these things are always up for a nightcap …)
So hang on, here we go!
On Oct. 3, Mr. Rushdie was in attendance at the New York screening and party for Elizabeth: The Golden Age. Two nights later, on Oct. 5, he gave a talk at the New Yorker Festival with Turkish novelist Orhan Pamuk on the topic "Homeland." On Oct. 7 he whooshed up to Ontario to give a lecture "in the provocative spirit of Bernard Shaw." By Monday, Oct. 15, he had hopped across the pond and was spotted in London, leaving the Ivy with a "mystery blonde" who, a source told the Evening Standard, looked "remarkably like Kay Saatchi," the ex-wife of ad man and art collector Charles Saatchi.
Salman Rushdie at the Ivy! Talk about hiding in plain sight. Or not hiding at all!
By that Thursday (Oct. 18), he had long left London behind for the chillier confines of Ithaca, N.Y., where, according to the Cornell Daily Sun, he quipped, "The First Amendment is the single thing that people value about the U.S.—except the career of Tom Cruise, of course." Oh, indeed! Undoubtedly he had been dipping into Ms. Lakshmi's stash of Us Weeklys over the past few years.
Then before any upstate ice could form on his Wallabees he was back in Manhattan for an Oct. 24 party at the Tribeca offices of The Paris Review, where wizened literary stars pretend to mingle with peers while sneaking in an ogle or two at the editorial assistants perched prettily on high heels. Three nights later, he sat through a reading of a Pirandello play at the Guggenheim Museum, where he reportedly fell asleep, and then followed Miuccia Prada to her party at Bemelmans Bar in the Hotel Carlyle in honor of the artist Francesco Vezzoli; The Times brazenly reported that Mr. Rushdie "buttonholed the hostess." Then on Oct. 29, he was a true belle at Denise Rich's Angel Ball at the Marriott Marquis, where he was joined by the likes of Damon Dash and Petra Nemcova, the leggy blonde model whose tragic loss of her photographer boyfriend in the tsunami of 2004 has, it must be said, been quite a boon for her career.
No time for naps, Sir Salman! The next morning he took a quick jaunt up to Boston to speak at the Boston Public Library (topic: "Public Events, Private Lives), and then returned to New York for Halloween, where he appeared at a socialite-heavy party on Lafayette Street dressed as Darth Vader. There doesn't seem to have been one particular Princess Leia, but Page Six claimed he had to "fend off a bevy of scantily costumed babes pawing at him."
It's not that the breakup of his marriage necessarily awakened some long-dormant need in Mr. Rushdie to see and be seen; after all, he met Ms. Lakshmi at the extravagant launch party for the ill-fated Talk magazine in 1999 (while he was still married to British book editor Elizabeth West). But the Mr. Rushdie of 2007 is different than the Mr. Rushdie of 1999. For one thing, the threat of the original fatwa against him seems to have passed, even though it was reaffirmed by the Iranian hard-liner Ayatollah Ali Khameini in 2005. For another, Mr. Rushdie's marriage to Ms. Laksmi announced to the world that he was capable of landing a truly smoking babe of distinctly non-tweedy proportions. He is not, it would seem, much interested in linking up with, say, a "lit chick hot" New Yorker fact-checker who would know all his books by heart and be his Dries van Noten-clad concubine. No, he wanted a dishy ditz. (And if you think that will only make him even more attractive to those bookish babes, you'd be right.)
Back to the puddle-jumping! His Darth Vader costume safely put back in the closet till next year, on Nov. 5 he spoke on "the culture wars" at a high school in Great Barrington, Mass. Two days later, the man was clear across the country, breaking out his brolly in rainy Yakima, Wash., where he spoke on "the importance of free speech." The following day he was in a warmer clime, at San Jose State University. Then he flew back to New York for the Nov. 11 Indo-American Film Festival Awards. Then—flash that passport!—he was back in London on Nov. 14, attending a private dinner hosted by Russian billionaire Evgeny Lebedev at his Japanese restaurant, Sake No Hana. And on Nov. 28, he was scheduled to be in Budapest, signing Hungarian copies of his 2005 novel, Shalimar The Clown.
When contacted, an editor at Random House, his publisher, said, "Rushdie never comments on his personal life."