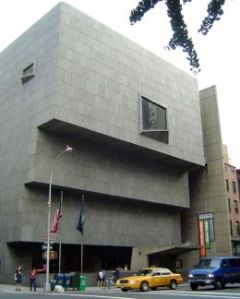 The Whitney annouced the artists selected for their 2008 Biennial today. The show will be displayed in the entire museum (except for the fifth floor). It opens March 6, and runs through June 1, 2008.
Donna De Salvo, Associate Director for Programs and Curator, said in a press release: "The Biennial is a laboratory, a way of 'taking the temperature' of what is happening now and putting it on view. It influences our thinking on multiple levels and, for the Whitney, translates directly into the choices we make about our exhibitions and collections. In dealing with the art of the present, there are no easy assessments, only multiple points of entry. For the Whitney, and for our public, we hope the Biennial is one way in."
Artists listed after the jump.
Rita Ackermann
Born 1968 in Budapest, Hungary
Lives in New York, New York
Natalia Almada
Born 1974 in Mexico
Lives in Mexico City, Mexico and New York, New York
Edgar Arceneaux
Born 1972 in Los Angeles, California
Lives in Los Angeles, California
Fia Backström
Born 1970 in Stockholm, Sweden
Lives in New York, New York
John Baldessari
Born 1931 in National City, California
Lives in Santa Monica, California
Robert Bechtle
Born 1932 in San Francisco, California
Lives in San Francisco, California
Walead Beshty
Born 1976 in London, England
Lives in Los Angeles, California
Carol Bove
Born 1971 in Geneva, Switzerland
Lives in New York, New York
Joe Bradley
Born 1975 in Old Orchard Beach, Maine
Lives in New York, New York
Matthew Brannon
Born 1971 in Saint Maries, Idaho
Lives in New York, New York
Bozidar Brazda
Born 1972 in Cambridge, Canada
Lives in New York, New York
Olaf Breuning
Born 1970 in Schaffhausen, Switzerland
Lives in New York, New York
Jedediah Caesar
Born 1973 in Oakland, California
Lives in Los Angeles, California
William Cordova
Born 1971 in Lima, Peru
Lives in Houston, Texas and Miami, Florida
Dexter Sinister
Stuart Bailey
Born 1973 in York, England
David Reinfurt
Born 1971 in Chapel Hill, North Carolina
Based in New York, New York
Harry (Harriet) Dodge and Stanya Kahn
Born 1966 and 1968, respectively, in San Francisco, California
Live in Los Angeles, California
Shannon Ebner
Born 1971 in Englewood, New Jersey
Lives in Los Angeles, California
Gardar Eide Einarsson
Born 1976 in Oslo, Norway
Lives in New York, New York
Roe Ethridge
Born 1969 in Miami, Florida
Lives in New York, New York
Kevin Jerome Everson
Born 1965 in Mansfield, Ohio
Lives in Charlottesville, Virginia
Omer Fast
Born 1972 in Jerusalem, Israel
Lives in Berlin, Germany
Robert Fenz
Born 1969 in Ann Arbor, Michigan
Lives in Cambridge, Massachusetts
Coco Fusco
Born 1960 in New York, New York
Lives in New York, New York
Gang Gang Dance
Lizzi Bougatsos, Brian DeGraw, Tim DeWit, Josh Diamond, Nathan Maddox
Founded 2001-02 in New York, New York
Based in New York, New York
Amy Granat and Drew Heitzler
Born 1976 in St. Louis, Missouri, and born 1972 in Charleston, South Carolina,
respectively
Live in New York, NY, and Los Angeles, California, respectively
Rashawn Griffin
Born 1980 in Los Angeles, California
Lives in New York, New York
Adler Guerrier
Born 1975 in Port-au-Prince, Haiti
Lives in Miami, Florida
MK Guth
Born 1963 in Stevens Point, Wisconsin
Lives in Portland, Oregon
Fritz Haeg
Born 1969 in St. Cloud, Minnesota
Lives in Los Angeles, California
Rachel Harrison
Born 1966 in New York, New York
Lives in New York, New York
Ellen Harvey
Born 1967 in Kent, England
Lives in New York, New York
Mary Heilmann
Born 1940 in San Francisco, California
Lives in New York, New York
Leslie Hewitt
Born 1977 in New York, New York
Lives in New York, New York and Houston, Texas
Patrick Hill
Born 1972 in Royal Oak, Michigan
Lives in Los Angeles, California
William E. Jones
Born 1962 in Canton, Ohio
Lives in Los Angeles, California
Karen Kilimnik
Born 1955 in Philadelphia, Pennsylvania
Lives in Philadelphia, Pennsylvania
Alice Könitz
Born 1970 in Essen, Germany
Lives in Los Angeles, California
Louise Lawler
Born 1947 in Bronxville, New York
Lives in New York, New York
Spike Lee
Born 1957 in Atlanta, Georgia
Lives in New York, New York
Sherrie Levine
Born 1947 in Hazleton, Pennsylvania
Lives in Santa Fe, New Mexico and New York, New York
Charles Long
Born 1958 in Long Branch, New Jersey
Lives in Los Angeles, California
Lucky Dragons
Luke Fischbeck, born 1978 in San Francisco, California
Lives in Los Angeles, California
Daniel Joseph Martinez
Born 1957 in Los Angeles, California
Lives in Los Angeles, California
Corey McCorkle
Born 1969 in La Crosse, Wisconsin
Lives in New York, New York
Rodney McMillian
Born 1969 in Columbia, South Carolina
Lives in Los Angeles, California
Julia Meltzer and David Thorne
Born 1968 in Hollywood, California, and born 1960 in Boston, Massachusetts
Live in Los Angeles, California
Jennifer Montgomery
Born 1961 in New York, New York
Lives in Chicago, Illinois
Olivier Mosset
Born 1944 in Bern, Switzerland
Lives in Tucson, Arizona
Matt Mullican
Born 1951 in Santa Monica, California
Lives in New York, New York
Neighborhood Public Radio (NPR)
Formed 2004 in Oakland, California
Based in Oakland, San Francisco, and San Diego, California, and Chicago, Illinois
Ruben Ochoa
Born 1974 in Oceanside, California
Lives in Los Angeles, California
DJ Olive
Born 1961 in Boston, Massachusetts
Lives in New York, New York
Mitzi Pederson
Born 1976 in Stuart, Florida
Lives in San Francisco, California
Kembra Pfahler/The Voluptuous Horror of Karen Black
Born 1961 in Hermosa Beach, California
Lives in New York, New York
Seth Price
Born 1973 in East Jerusalem
Lives in New York, New York
Stephen Prina
Born 1954 in Galesburg, Illinois
Lives in Cambridge, Massachusetts and Los Angeles, California
Adam Putnam
Born 1973 in New York, New York
Lives in New York, New York
Michael Queenland
Born 1970 in Pasadena, California
Lives in New York, New York
Jason Rhoades
Born 1965, Newcastle, California
Died 2006, Los Angeles, California
Ry Rocklen
Born 1978 in Los Angeles, California
Lives in Los Angeles, California
Bert Rodriguez
Born 1975 in Miami, Florida
Lives in Miami, Florida
Marina Rosenfeld
Born 1968 in New York, New York
Lives in New York, New York
Amanda Ross-Ho
Born 1975 in Chicago, Illinois
Lives in Los Angeles, California
Mika Rottenberg
Born 1976 in Buenos Aires, Argentina
Lives in New York, New York
Heather Rowe
Born 1970 in New Haven, Connecticut
Lives in New York, New York
Eduardo Sarabia
Born 1976 in Los Angeles, California
Lives in Los Angeles, California, Guadalajara, Mexico, and Berlin, Germany
Melanie Schiff
Born 1977 in Chicago, Illinois
Lives in Chicago, Illinois
Amie Siegel
Born 1974 in Chicago, Illinois
Lives in New York, New York and Berlin, Germany
Lisa Sigal
Born 1962 in Philadelphia, Pennsylvania
Lives in New York, New York
Gretchen Skogerson
Born 1970 in Teaneck, New Jersey
Lives in New York, New York and Boston, Massachusetts
Michael Smith
Born 1951 in Chicago, Illinois
Lives in New York, New York and Austin, Texas
Agathe Snow
Born 1976 in Corsica, France
Lives in New York, New York
Frances Stark
Born 1967 in Newport Beach, California
Lives in Los Angeles, California
Mike Tajima/New Humans
Mika Tajima
Born 1975 in Los Angeles, California
Lives in New York, New York
Howie Chen
Born 1976 in Cincinnati, Ohio
Lives in New York, New York
Javier Téllez
Born 1969 in Valencia, Venezuela
Lives in New York, New York
Cheyney Thompson
Born 1975 in Baton Rouge, Louisiana
Lives in New York, New York
Mungo Thomson
Born 1969 in Woodland, California
Lives in Berlin, Germany and Los Angeles, California
Leslie Thornton
Born 1951 in Oak Ridge, Tennessee
Lives in New York, New York
Phoebe Washburn
Born 1973 in Poughkeepsie, New York
Lives in New York, New York
James Welling
Born 1951 in Hartford, Connecticut
Lives in Los Angeles, California
Mario Ybarra, Jr.
Born 1973 in Los Angeles, California
Lives in Los Angeles, California