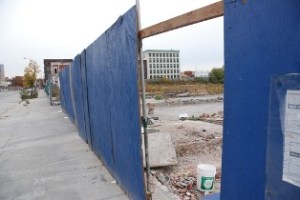 Today's Metro takes a look at the planned Whole Foods in Gowanus, where construction has yet to begin despite its groundbreaking more than a year ago.
"What's the hold up?" reporter Amy Zimmer asks.
Well, for one thing, there is no building permit for the planned 68,000-square-foot store.
The first application filed by its architect Ranier Muhlbauer on Apr. 6, 2005, had been rejected, as have several others, including the most recent one filed on Sept. 19 for "non-compliance with building and zoning regulations," DOB officials said.
The story makes no mention of the whole toxic cleanup component of the project.
An article in the New York Sun this past September also described the project as moving at a "snail's pace" with its original opening date of "spring 2008" now looking more like "early 2009."
Brooklyn blog Gowanus Lounge has been chronicling Whole Foods' slow development rather extensively, including the ups and downs of the lot's fencing problems.