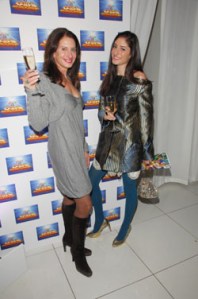 Denise Wohl, mother of headband-wearing alterna-socialite Arden, has started a new comic book company, Intrinsic Comics, hiring James Shooter, the former editor in chief of Marvel Comics, where she used to work as a letterer, to help realize her vision.
At an Accompanied Literary Society party on Thursday, Nov. 15, Ms. Wohl was signing copies of her first, cabala-inspired publication, Seven, which was written by Mr. Shooter and drawn by Paul Creddick. "The comic really says that we're all heroes," said her husband, Larry, chairman of the Tibet House in New York and financial backer of Intrinsic. "Which is a great concept. A very spiritual comic for the kids."
Ms. Wohl explained the book's title thusly: "You've heard that we only use 5 percent of our brain?" Seven's seven characters "have learned to use more of their brains so they are able to tap into the sources that are available to all of us, all of nature and all of the cosmos. … Cabala is not a noun, it's a verb, and it means to receive, and that's what superheroes do, they receive everything, they're masters of alchemy, quantum physics, nanotechnology, cosmic influences, so I guess they're receiving it all!" Cue wind chimes!
Speaking of wind, between this new venture (which retails for $3) and the Wind Toss, the visor-headband she brought to the Hamptons accessories market last summer, Ms. Wohl has apparently become something of a legend among Upper East Side ladies. "Someone said to me, 'You're my Martin Luther King of Park Avenue!'" she bragged. She added that Seven celebrates the people in New York that are trying to make a difference, "like the Tisches!"
The event's hostess, Brooke Gehan, founder of the society, said she took special care to select a host committee of "people that actually put forth good ideas and try to change the world."
Such as socialite Emma Snowdon-Jones, glimpsed bopping around the room?
"I would focus on someone like Dr. Alejandro Junger starting a wellness center with Donna Karan," Ms. Gehan said.