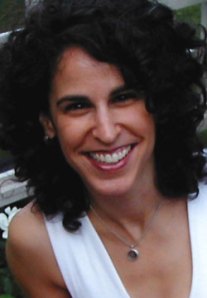 Well before Susan Dominus became a Times columnist, she worked as an editor for Nerve, the online sex and dating magazine. In a recent Nerve interview, Ms. Dominus was asked whether she received any warnings about working there. "Well," she replied, "I asked the editor in chief [of New York magazine, where she worked at the time], Caroline Miller, if she thought The New York Times or some place like that wouldn't hire me because I'd worked at a sex magazine and she said, 'You don't want to work anywhere that wouldn't hire you based on that.'" *
Turns out there was no reason to worry. This past Monday, Ms. Dominus began working at 620 Eighth Avenue, and will soon produce a twice-a-week column for the Metro section. (It's worth noting that Ms. Dominus' quote has been edited on the Nerve Web site, where "The New York Times" has been replaced by "some places." There is no indication that an edit has been made. The original quote can be found on the cached and print versions of the interview.)
Ms. Dominus was an unconventional pick for a Metro columnist. She has freelanced for the Times Magazine, as well as other magazines, but has never worked for a newspaper. All in all, her body of work—which includes Times Magazine stories on the fathers' rights movement, the adult children of gay parents and the Sept. 11 widows—bears little resemblance to that of Joyce Purnick, the boot-strapping political-reporter-turned-editor-turned-columnist who was the last woman to write a Metro column.
"It's a step in a different direction for the column," Ms. Purnick told Off the Record. Ms. Dominus declined to comment.
The news raises a question: Does the decision to hire Ms. Dominus to write a column—one that Times managing editor Jill Abramson described to Off the Record as forever being linked with "signature Times journalism"—suggest that the paper is looking to take the section in a different direction—something closer to Metro Styles?
From conversations with staffers and editors at the paper, it's clear that since Metro editor Joe Sexton took over the section last January he has begun tweaking Metro's DNA—playing down the fire and crime reports that used to make up the heart of the section in favor of more lifestyle stories.
Mr. Sexton wouldn't comment for this story, but Ms. Abramson allowed that "the lives of New Yorkers are very much a part of Metro. We have expanded that a bit."
"The heart of the Metro section will always be hard news," she continued. "It's just adding some new elements and new writers that I think bring a lot of insight and verve to the Metro report."
Another Times editor elaborated, saying that Mr. Sexton doesn't feel compelled to chase after every alert on the police scanner. Metro hasn't abandoned its coverage of local crime and emergency reporting—indeed, when a fire in the Bronx killed eight children in March, at least a dozen different Times reporters had bylines in a three-day blitz of coverage. But Mr. Sexton, said the editor, is more selective than previous Metro editors in deciding which of those stories warrants that kind of attention.
And a different Times editor confirmed: "Joe would like to get away from the littler hits and think in larger terms and broader ideas. It's not that he doesn't want to cover the region, but he doesn't want to cover the inconsequential stuff that is essentially boring."
Perhaps the most noticeable change is the use of larger photos on B1, sometimes taking up a third of the page. And those photos usually illustrate the kind of feature stories that are more likely to make the paper's online most-read list than, say, a brief about a mugging. For instance, on Nov. 5 and 6, features about a Harlem soccer coach and about the use of limes in bars were given prominent play on B1 .
But it's the City Room—the online arm of the Metro section—that seems to have most enthusiastically embraced the new feature-and-lifestyle–heavy approach. Here are some sample headlines from Nov. 1, which appeared alongside a report on the race for Staten Island district attorney: "Have a Flower. It's for the Children"; "Taking Hand-Sanitizing to a New Level"; "How Is Bloomberg Like Pope John XXIII?"; and "Serenade for a Life-Saving Dog and Cat."
And Ms. Dominus isn't the only recent addition who adds to the section's magaziney feel. Last summer, The Times hired Eric Konigsberg—who has written for The New Yorker, The Times Magazine, New York magazine, and Rolling Stone—to cover the lifestyles of the rich. (A recent article on Tinsley Mortimer's husband ended up in the Sunday Styles section). In a staff memo announcing Mr. Konigsberg's hiring, Mr. Sexton described him as a satirist, a stylist and a memoirist who had "chosen to add 'daily hack' to his resume."
* This sentence has been corrected from an earlier version.