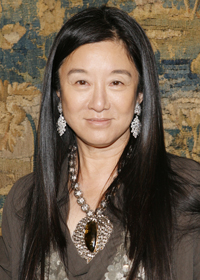 In the wonderful world of fashion, 2007 was the year designers sent up a collective chorus, begging, "Look at me!"—or, so says today's Styles section in the Times. Revisiting disastrous runway trends that add up to a mere style-free cesspool, the piece points specifically to the hard-to-ignore lack of non-white models, Dolce & Gabbana's atrocious "fantasy-rape" ad and a gaggle of designers who had cameos on lowbrow T.V. shows.
Perhaps Vera Wang's bizarre appearance on Ugly Betty rings a few bells? Marc Jacobs on The Hills?
What's more, 2007 was also the year when Tom Ford demanded that his spread for Out magazine's November issue be re-shot because—why else?—he thought it seemed odd to appear fully-clothed while showering with two naked dudes.
And one mustn't forget the line of wedding gowns inspired by classic heroines in animated Disney films. Of course, such fantastic bridal wares were made to share the stage with both Calvin Klein's licensed plus-size jeans and those once-ubiquitous canvas totes that screamed: "I am not a plastic bag."
But, alas, surely some sweet relief was offered in the form of the Web site Stardoll. Right? Wrong! After all, as the piece points out, the popular site allowed visitors to bedeck and peep a virtual Anna Wintour in nothing but her skivvies. More daring users were able to consider how the Vogue editor looks wearing a "Missoni-style" knit hat and moon boots—a truly lunar notion, indeed.