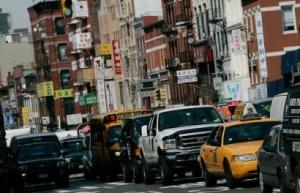 Remember back when 86th Street looked poised to become a new boundary line of status thanks to the Mayor's proposed congestion pricing zone? Mr. Bloomberg said that stopping the $8 fee at 60th Street would create a parking lot just outside the zone because drivers would try to dump their cars just outside the charging boundary and walk to work? At Monday's meeting of the congestion mitigation panel, members seemed to be just fine with keeping the boundary at 60th Street.
"Nobody is concerned that a real parking issue is going to develope between 60th and 86th streets because there is no place to park now anyway," said Marc V. Shaw, the commission chairman (and former first deputy mayor). "Mainly, it gets rid of the issue of creating a parking nightmare north of 86th Street, especially in Harlem, and it more better defines the traditional downtown and midtown business districts."
Shrinking the zone would not make as big a dent in "vehicle miles traveled" (a 6.2 percent reduction compared to a 6.7 percent decline under the Mayor's plan) and would also reduce the amount of revenue (from $420 million to $387 million), according to city Department of Transportation estimates. The adjustment, which won't be voted on unless presented as part of the final recommendation in January, shows that the clout of uptown legislators trump the Mayor's ideas about his own neighborhood.