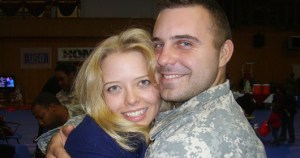 As The Observer wrote yesterday, one of the main reasons New Republic editor Franklin Foer decided to end the magazine's effort to verify Scott Beauchamp's "Baghdad Diarist" columns and issue a retraction was Mr. Foer's belief that Mr. Beauchamp—who was stationed in Iraq until last month—was not fully cooperating with TNR's investigation, and sometimes appeared uninterested in defending himself.
In a phone interview with The Observer Friday, Mr. Beauchamp's wife, former TNR reporter-researcher Elspeth Reeve, shed a bit more light on that aspect of the controversy.
In early August, the web site of The Weekly Standard, citing a military source close to the army's internal investigation, reported that Mr. Beauchamp had signed a sworn statement recanting much of what he'd described in his TNR pieces. TNR's editors were understandably troubled by the news, and set about trying to verify it—a task made much more difficult by the fact that, from late July until September, the Army would not allow Mr. Beauchamp to speak to TNR.
But Ms. Reeve told The Observer that TNR's executive editor, Peter Scoblic, did get Mr. Beauchamp on the phone once during that blackout, and asked him point-blank whether he'd recanted.
According to Ms. Reeve, one of one her weekly phone calls with Mr. Beauchamp, in early August, took place while she was at the TNR office, where she worked at the time. Mr. Scoblic was in the room with her, Ms. Reeve said, and asked to be put on the phone with Mr. Beauchamp so he could ask him about the statements.
Ms. Reeve reluctantly agreed—the fact that a non-commissioned officer monitored all of Mr. Beauchamp's conversations with his wife made it a risky move—and instructed her husband to answer Mr. Scoblic's questions with either 'yes' or 'no'.
"This was the most intense moment," Ms. Reeve said. "[Mr. Scoblic] asked [Mr. Beauchamp] all about the statement: 'did you say this, did you say that,' just trying to figure out if he had contradicted himself in any way."
According to Ms. Reeve, Mr. Beauchamp told Mr. Scoblic he had not recanted anything, and insisted that he had not fabricated any of his material—something he continues to maintain to this day.
Mr. Scoblic did not respond to a request for comment on his covert conversation with Mr. Beauchamp. But according to the retraction Mr. Foer published in TNR last weekend—which did not mention Mr. Scoblic's conversation with Mr. Beauchamp—the magazine's editors had lost confidence in Mr. Beauchamp's word by this point, and wanted to see the statements with their own eyes.
Mr. Foer told The Observer in an interview early last week that Mr. Beauchamp consistently failed to produce them.
In her conversation with The Observer Friday, Ms. Reeve agreed that Mr. Beauchamp could have done more to get the statements to TNR, but said that he did clear them for release under the Freedom of Information Act, so that the editors could retrieve them on their own initiative if they wanted to.
"The statements evolved into this symbol, I think, for Scott's cooperation," Ms. Reeve said. "I wouldn't say that he wasn't cooperating. It's just that—how can I phrase this?—it's really hard for a civilian to understand what daily life is like over there… Working 20 hours a day it can be hard to sneak out to use the fax machine."