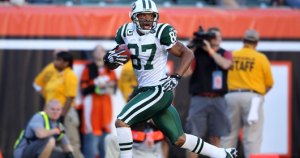 On Sunday afternoon, the Jets will close out their most disappointing season in recent memory when they face a hapless Kansas City Chief team at the Meadowlands. And unless you're motivated by lingering resentment stemming from the sudden departure of Herman Edwards in 2005, chances are that you're going to have a difficult time finding reason to watch the last scene of a rather tired act. The bad news, of course, is that the Jets' season has been lost for two months. But here's the good news: like virtually every other NFL team, the Jets aren't far removed from having a playoff-caliber club in 2008. Here's how they can do it.
Stay away from free agency. The Jets are reported to be about $28 million under the projected 2008 salary cap, and that has some people calling for a quick-fix spending spree on players like Ravens linebacker Terrell Suggs, Steelers guard Alan Faneca and Bears wide-receiver Bernard Berrian. If you can't remember the last time a high-priced free agent sparked a miraculous turnaround for a foundering franchise, it's because it's never happened. Franchise talents simply don't hit the free-agent market in the NFL. And on the rare occasion that a big name becomes available, there's almost always a caveat in the form of injury history and character questions, or declining performance. Further, because the chief participants in free agency are usually fiscally irresponsible teams desperate for a sudden makeover, the market for this marginal talent is often wildly disproportionate to the players' fair value. The Jets' past forays into the free-agent market are instructive on the perils of quick fixes. Take, for example, their free-agent haul in 1993, which included such luminaries as Ronnie Lott, Leonard Marshall, and Boomer Esiason. And how about their big splash in 1996, when they signed all-stars like Neil O'Donnell, Jeff Graham, and Jumbo Elliott? Steer clear.
Re-sign Laveranues Coles. From the day Laveranues Coles returned to the Jets in 2005, he has been the consummate pro, both on and off the field. No one on the roster gives more effort, and scarcely anyone else can match his hands, toughness, or will to win. This year notwithstanding, he has proved a durable, highly consistent player who is well regarded by his peers and teammates. Moreover, he'll be only 30 years old this month, so he figures to have several quality seasons left. He's a Jet through and through. Bring him back.
Do Not Draft a Quarterback. In the wake of Kellen Clemens' inauspicious debut (4TDs 10INTs 59.0 Rating), some sects are hankering for one of the top quarterbacks in the upcoming draft—namely Boston College's Matt Ryan, Louisville's Brian Brohm or Kentucky's Andre' Woodson. But the Jets spent a second-round pick on Clemens in 2006, and six starts is hardly a representative sample. Moreover, for much of his playing time, Clemens was without Coles and Jerricho Cotchery. Further, none of the three quarterbacks projected to go in the first round is regarded as a premier prospect. Were there a Peyton Manning or Carson Palmer type sitting at the top of the draft, perhaps it would be worth a shot, but there's not much reason to think that any of this year's prospects is worth writing Clemens off this early and when so many other holes need to be filled.
Fix the Offensive Line. Of all the deficiencies in evidence when the Jets play good teams, offensive line play is the most glaring. The Jets have been routinely manhandled on the line, and it has to stop if they have any pretension to a playoff appearance in 2008. The draft presents a perfect opportunity to remedy the situation. Although this draft is considered relatively weak at the top, there's a bumper crop of offensive-line talent that figures to be chosen between picks 20 and 100. The Jets should use their first-round pick to trade down and acquire multiple picks to re-tool the line. Neither LG Adrien Clarke nor RT Anthony Clement is an NFL-caliber starter, so expecting the Jets to mount a credible attack with them in the lineup is simply unrealistic. Instead, use the extra picks to choose among high-quality prospects like Pittsburgh Tackle Jeff Otah, Oklahoma guard Duke Robinson, Vanderbilt Tackle Chris Williams and Nebraska tackle Carl Nicks.
Fix the Defensive Line. If the offensive line is the most glaring need, then the defensive line is second. None of the three starters (Shaun Ellis, Dewayne Robertson, and Kenyon Coleman) is particularly imposing. Both Robertson and Ellis are far better suited for the 4-3, and Coleman wouldn't be much better than marginal in any defense. The most logical solution involves scrapping the 3-4 and returning to the traditional 4-3. But given this regime's noteworthy stubbornness, that appears unlikely. The second-best tack would see them acquire a large, run-stuffing nose tackle along with a defensive end who could provide some semblance of a pass rush.
Re-sign Jonathan Vilma. Ever since David Harris replaced him at inside linebacker in the Jets 3-4 alignment, it's become fashionable to call for Vilma to be traded in the offseason. Nonsense. Vilma was the 2004 defensive Rookie of the Year, and he followed that showing by leading the NFL in tackles in 2005. Although there's no question that he's been underwhelming over the last two seasons, that has more to do with Mangini's defense than any fault of Vilma's. Vilma is simply not cut out to play inside linebacker in a 3-4 defense. Instead of casting him off for pennies on the dollar, how about putting him in a position to succeed? The Jets faced a similar dilemma ten years ago with defensive end Hugh Douglas. In his first two seasons with the Jets, Douglas had established himself as a feared edge rusher in a 4-3 defense. But after Bill Parcells implemented the 3-4 defense, Douglas's chief attribute was negated, and he posted only 4 sacks in 1997. The next year, he was traded to the Philadephia Eagles for two draft pick that turned into defensive end Dorian Boose and linebacker Casey Dailey. Douglas went on to three pro bowls and two all-pro nominations with the Eagles, for whom he totaled 51.5 sacks in 66 games through 2002. Dorian Boose failed to register a single sack in his entire career, which ended in 2002 after he had managed 41 tackles in four seasons. Dailey's NFL career lasted only six games before he was forced to retire on account of injury. Do the jets really want to repeat the Hugh Douglas mistake with Vilma?