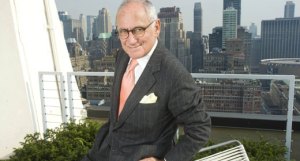 The best place to come from, if you want a fair crack at buying really immense Manhattan condos, is either the United Arab Emirates or the Internet.
City records filed this week show that Sultan Ahmed Al-Qassimi, who apparently belongs to the ruling family of Sharjah–Dubai's neighboring emirate–spent $4.95 million late last month on a low-floor apartment at the Robert A.M. Stern-designed Fifteen Central Park West. (Tune into this week's Manhattan Transfers column to read about a haute broker who bought a place one flight up.)
But across the park, that was overshadowed by a mystery buyer named CPW EXODUS REALTY, LLC, whose October deed for a $16.6 million apartment purchase was filed in city records four minutes later than Mr. Al-Qassimi's.
That corporation bought a 13-room duplex penthouse at 279 Central Park West from LendingTree guru John Lebda. Mr. Lebda evidently knows his real estate: City records show he paid just $10.9 million last May for the penthouse, which means he made a gorgeous profit.
He took out a $7.63 million mortgage for his old duplex, perhaps through his Web site, but reportedly paid cash for his new place. That mortgage market is really slumping.