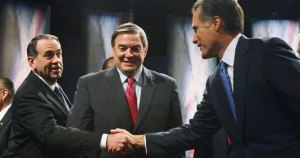 Mitt Romney and Mike Huckabee were each given the opportunity to lead a state. Only Mr. Huckabee took advantage of it—and now it may cost him the Republican nomination.
For much of the decade that he served as Governor, Mr. Huckabee pursued an ambitious agenda, working tirelessly, sometimes arrogantly, and often effectively to bend the Arkansas legislature to his will. His motives were no doubt as complicated as anyone else's, but it's tough to argue that Mr. Huckabee's major gubernatorial actions were the products of crude political calculation.
Why?
Because they positioned him so poorly for the G.O.P. nomination campaign he embarked on immediately after leaving office. A sweeping children's health insurance plan, shepherded into law before federal matching funds made such programs standard fare at the state level; an overhaul of the state's roads and highways; expanded pre-Kindergarten education; money to revamp the state park system, increased public support for the arts, and all of those gubernatorial pardons: this is not how one typically endears oneself to the right. And he raised some taxes too.
All of this is now being flung in Mr. Huckabee's face by Mr. Romney, who badly needs the conservative Republicans who dominate that state's caucuses to drop their flirtations with Mr. Huckabee. Mr. Romney wants to create in the minds of Republican voters a simple contrast between the two front-runners of the moment: Two governors. One a bleeding heart liberal. The other a red-blooded conservative.
The problem with that purer-than-he argument, though, is that while Mr. Huckabee plainly strayed from conservative orthodoxy on numerous occasions in Arkansas, he also did plenty to infuriate the left. His rhetoric on social issues, for instance, was unyieldingly conservative from the day he took office until the day he left—a far cry from Mr. Romney, who backed abortion rights until the summer of 2005. Mr. Huckabee also incurred the ire of teachers' unions and the education establishment by crusading for school consolidation earlier this decade.
The Huckabee gubernatorial record doesn't scream liberalism or conservatism. Instead, it suggests a leader who took to heart Woodrow Wilson's old adage that a leader who thinks only about getting re-elected isn't likely to do anything that will make him worth re-electing. (For the record, Mr. Huckabee was re-elected twice by Arkansas' voters—more success than any Republican has ever had in that state.)
Mr. Romney, meanwhile, hardly governed Massachusetts as a conservative. In fact, he hardly governed the state at all.
By now, the story of Mr. Romney's electoral conquest of the Bay State in 2002 is well known: He ran as a moderate, reform-minded Republican, a man in synch with the state's liberal social and environmental sensibilities and just as offended by the clunky and inefficient Democratic machines that produced much of the "talent" on Beacon Hill as most suburban voters were.
He took office in January 2003 and maintained the act for about a year. He pried the contemptible Billy Bulger loose from his lucrative post as the president of the University of Massachusetts system, endeavored (valiantly but unsuccessfully) to rid the state of one of its most notorious patronage dens (the Metropolitan District Commission), and deputized a committed environmentalist to create a mini-Kyoto accord among the New England states to compensate for the federal government's inaction. There was not talk of abortion, homosexuality, illegal immigration, or gun control.
But the act didn't last long. The Massachusetts Supreme Court's March 2004 ruling in favor of gay marriage forced Mr. Romney to choose between his Massachusetts promises and his national ambitions earlier than he'd hoped to. He chose to go national and disengaged from Massachusetts, routinely making the state the butt of his jokes as he traversed the country in 2004 campaigning for George W. Bush's re-election—and his own unannounced 2008 effort.
He begged off his pro-choice position, adopted a largely hostile tone toward gays and lesbians—even as his own state, initially weary of gay marriage, steadily grew more comfortable with it—and began spending more time out of the state than in it. Predictably, his approval rating dropped, he became almost irrelevant to the Legislature, and he ducked out of a 2006 re-election bid, well aware that it would mean certain defeat.
With the exception of the much ballyhooed health care plan that he takes credit for—but that the Legislature largely crafted—Mr. Romney devoted most of his term to racking up cheap, symbolic and generally meaningless accomplishments that would look nice on '08 campaign brochures.