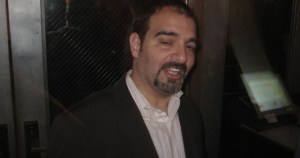 Last week, the New York Post's deputy metro editor Michelle Gotthelf was on vacation, renovating her home in New Jersey. Meanwhile, the editorial structure of her section of the paper was falling apart: On the night of Monday, Dec. 10, metro editor Dan Colarusso unexpectedly quit, leaving a team of assistant editors to fill in on the fly.
And so, on her first day back to work on Monday, Dec. 17, Ms. Gotthelf hastily met with editor in chief Col Allan, who named her the new metro editor.
There was no formal announcement to the newsroom of Ms. Gotthelf's promotion. Instead, she quietly gave the news to a few staffers at a lunchtime meeting that day. (By contrast, when Mr. Colarusso was named city editor back in January, Mr. Allan treated him and new managing editor Jesse Angelo to a congratulatory dinner at Elaine's.) In fact, most of the reporters interviewed for this story said they weren't even aware that Ms. Gotthelf, who had been passed over when Mr. Colarusso was appointed, had been formally offered the job. (A Post spokesman confirmed that she had been, and had accepted.)
The quiet hand-over is likely a result of the dramatic way in which Mr. Colarusso gave up his job last week. His departure on the night of the 10th (a Post spokesman confirmed to Off the Record that he quit, but did not say more) was so sudden, said one staffer, that when his colleagues didn't see Mr. Colarusso in the office the next day, it was assumed he was taking an extended break at the third-floor gym at 1211 Avenue of the Americas, where he often spent free time.
Not until late that morning did it become clear that two editors—Neil Sloane and Dan Greenfield—were going to be responsible for manning the city desk for the day.
The consensus among Post staffers appears to be that Mr. Colarusso wasn't exactly cut out for what is, by all accounts, a brutal and thankless job. All staffers interviewed for this story said he seemed overwhelmed by the job. One described him as disorganized when it came to picking the day's stories, sometimes sending a reporter to several locations before he settled on one.
Another said that Mr. Allan had upbraided Mr. Colarusso in front of colleagues, and on at least one occasion had kicked him out of a meeting. "It's kind of like, belittling him, demeaning him, yelling at him in meetings, saying, 'I don't like this, that and the other,'" said the staffer. "And I think after a while you can only take so much before you finally turn around and say, 'Screw you.'"
"He didn't sound too happy—he knew something was happening," said another Post reporter. "He was joking a few days before he quit that he didn't know if he was going to make it by the end of the week."
Mr. Colarusso declined to comment.
Before he took over the Post's city section, Mr. Colarusso, a Brooklyn native, was the paper's business editor, where he managed a far smaller staff—about a dozen people, compared with the city desk's 75 writers. Most reporters contacted by Off the Record said he was widely respected there.
"He's a fantastic guy and a fantastic editor and a fantastic guy to work for," said Tim Arango, a New York Times business reporter who worked with Mr. Colarusso at the Post. "He had a great sense for business news." In fact, right before he accepted the city editor job early this year, Mr. Colarusso was interviewing to take over as the editor of Porfolio.com, according to a source familiar with the discussions. And since he quit the Post last week, his name has again been floated at Portfolio, a Condé Nast source said.
As for Ms. Gotthelf, she's been with the Post since 2000, and has previously directed breaking news and courts coverage. Before she joined the paper, she ran APBnews.com, a crime-news Web site.
She's uniformly described by her staff as having a love of a good blood-and-guts story. Colleagues also use a word to describe her that suggests she's a good fit as a Post editor: temperamental.
"She has a bit of a mean streak," said one reporter. "She'll call up and say, 'Hey, this is terrible!' She's a little more aggressive than some of the other wishy-washy editors."
"She is not a pushover," another reporter says. "She's good at what she does. She doesn't waste time, she doesn't take any crap."
According to one staffer, Ms. Gotthelf was bitter when she was passed over for Mr. Colarusso in January, but decided to stay with the paper anyway.
Ms. Gotthelf did not return a call for comment, and Mr. Allan, through a spokesman, declined to comment.
—Additional reporting by Leon Neyfakh