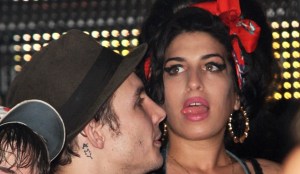 Amy Winehouse is going to die young. At least that's what we're expecting, according to Salon's James Hannahan. "It seems inevitable, given the ferocious soul singer's combination of youth, chutzpah, talent, substance abuse and bad taste in men," he writes.
It looks as though she'll be following in good company in rock 'n' roll heaven, at least.
Try to contextualize her nascent career and her appetite for self-destruction, and you'll see the ghosts of rock casualties float up — especially those who got whacked by the reaper relatively early in their career: Janis Joplin. Kurt Cobain. Jimi Hendrix. But you'll also think of Pete Doherty, frontman for punk revivalists the Libertines and Babyshambles, who knows how to turn his fuck-ups into photo ops, writing a diary from jail, staging a crack binge for a promo pic. While Cobain might have referenced his depression by singing about its positive side (in the Nirvana song "Lithium,") Winehouse romanticizes her addictions, insisting that they're the wellspring of her creativity.
She may be a tragic talent, but she's also playing the part of the tragic talent. Her anti-recovery anthem "Rehab," written about the time when a former management company attempted an intervention — she fired them for it — invokes R&B singers Ray Charles, a fellow addict, and Donny Hathaway, who committed suicide at 33.
Despite the stagey, self-consciously retro pedestal that producer Mark Ronson has placed it on, Winehouse's frank, confessional songwriting and expressive contralto have convinced her audience that the most important part of her job isn't anything as crass as "making art" or "writing songs." Instead it appears that Winehouse merely sings her pain, the way Mary J. Blige claimed to do until she started singing about how she wasn't going to sing about her pain anymore. The artist who sings the blues without living the blues is no legend, and Winehouse is determined to achieve that status if it kills her, based on her reference points.