Today's Valerie Huttle Chutzpah Award is Republican Assemblywoman Charlotte Vandervalk, who is suddenly against the government borrowing money without taxpayer approval, despite her vote in support of a 1997 $2.75 billion pension bond borrowing plan. Vandervalk has written an Op-Ed criticizing Governor Jon Corzine's asset monetization plan.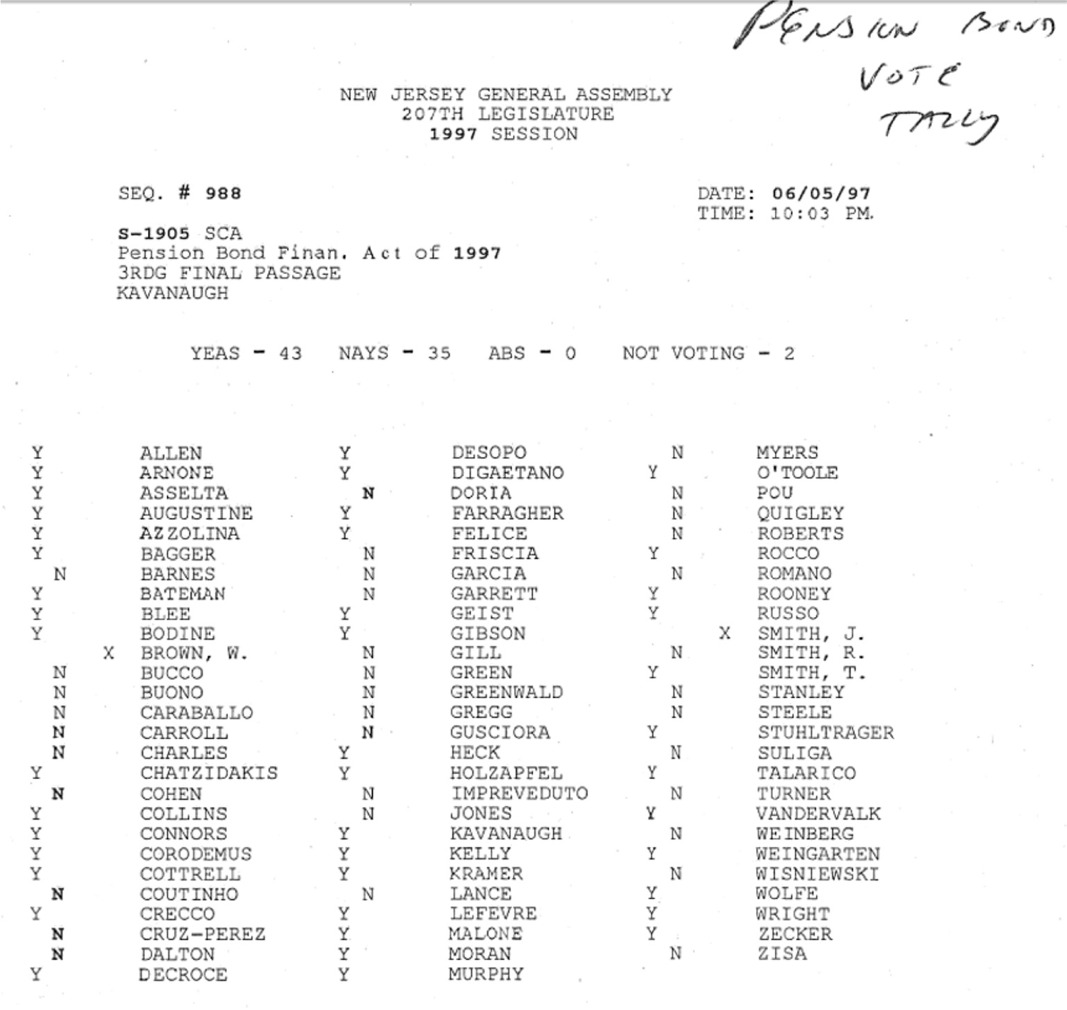 Read Vandervalk's opinion piece:
Walks like a Duck. Quacks like a Duck. Looks like Borrowing to Me.

I am going to tell you right up front that I am confused about Governor Corzine's proposed "asset monetization/road sale plan." And if I am confused, as a State legislator who will be shortly called to vote on the scheme, then I can only imagine just how confused the average taxpayer is.

Part of our collective confusion stems from the fact that the Governor hasn't given us any details about his plan. And what little he has said only adds to the confusion. In his 2007 Budget Address, he said; "Now let me be clear – borrowing to meet operating expenses is a terrible idea. And transferring an interest in a state asset to fund operating expenses is worse. And it is not under consideration." With Clintonian politispeak, he said this with a straight face right after listing a host of NEW SPENDING that he wanted. So it seems pretty clear that his monetization plan will be used for NEW SPENDING.

Maybe as a wealthy, single guy, the Governor just doesn't understand a basic fact of fiscal life for us average homeowners and taxpayers – IF YOU CAN'T AFFORD YOUR CURRENT EXPENSES, YOU CUT YOUR SPENDING. YOU DON'T BUY SOMETHING NEW.

As a "financial whiz" from Goldman Sachs, the Governor was perceived as one who could bring his business knowledge to the Statehouse, find cost savings, streamline the system, get us the best bang for our tax buck. Unfortunately, the reality has become just another rich guy creating another way around the law so that he doesn't have to pay the freight – someone else does – and that someone else is the New Jersey resident. Let me explain.

Our State Constitution says that the State cannot increase the state's debt without voter approval. Court cases have clearly upheld this as a protection for taxpayers. So what is the Governor proposing? He will "sell/lease" our state roadways to a newly-created state agency. And how is the agency going to pay for that?" Why, they are going to borrow the money – more money than the State has ever borrowed before. And the Governor will say that the State isn't doing the borrowing, the new agency is. THIS IS NO DIFFERENT THAN A RICH GUY SETTING UP A SHELL COMPANY TO BORROW MONEY THAT HE CAN'T LEGALLY BORROW HIMSELF.

In the same Budget Address, the Governor said; "Potentially, asset monetization could reset the state's finances by dramatically reducing our debt burden, and consequently reducing debt service." But the debt burden wouldn't really go away, it would just shift from the State's ledger to the new shell company's books. How will the new agency pay for the borrowing? EXPECT THE TOLLS TO DOUBLE OR TRIPLE IMMEDIATELY on the Garden State Parkway and the Turnpike with more increases to follow. And since Bergen County pays proportionately more tolls on the GSP than the rest of the state, our riders will bear the brunt of that toll increase.

In essence, the Governor – through this new state agency – will be mortgaging our state assets and we, although we are the true owners of those assets, will, as taxpayers and consumers, be making the monthly payments. In my real world, this is called borrowing. So, if it walks like a duck and quacks like a duck, it looks like borrowing to me. And our State Constitution says that any borrowing – much less the biggest amount ever borrowed in the State's history – must be approved by the people who are going to be ultimately responsible for the paying the debt – the people of New Jersey.

So, what can we do about this? If the Governor's scheme is close to what I have outlined above, a shell company organized on the backs of New Jersey taxpayers, then I will push for a coalition — individuals as well groups in opposition — to join forces in a lawsuit. The courts have spoken in the past. We now must look for enforcement. Such massive debt should only proceed if approved by the voters in a referendum. This duck shouldn't fly until the people of New Jersey say it can fly.