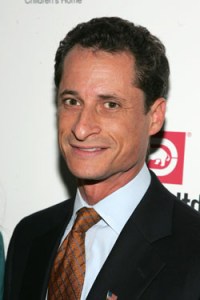 "Buenas noches!" exclaimed Congressman Anthony Weiner to the mostly Dominican crowd gathered on a recent evening in an all-purpose room at the Isabella Geriatric Center in Washington Heights. The congressman bounded to the front of the room, where Councilman Miguel Martinez, who represents the area, was waiting.
"Immigration isn't just a problem for people in New York," said Mr. Weiner, who is 43. He was wearing a gray windowpane suit, a green tie with white and maroon stripes, and an American flag pin on his lapel.
There is something Gumby-like about his appearance—he is skinny, with tanned skin and black hair, and gesticulates when he speaks. Every so often, a trace of a Brooklyn accent is audible; Mr. Weiner, who grew up in Park Slope, now lives in Forest Hills and represents what some have called the "outermost of the outer boroughs"—a looping swath of land that includes areas of Queens like the Rockaways, Kew Gardens and Howard Beach, and Sheepshead Bay, Borough Park and Midwood in Brooklyn. His district is 71 percent white.
"The number-one source of mail I get is anti-immigrant," he told the crowd. "And I represent a Democratic district." People in his district, he said, wear T-shirts that read "Legalize the Irish."
But Mr. Weiner is also a presumptive New York City mayoral contender for the 2009 race. (He ran in 2005 and did better than expected, finishing a close second in the Democratic primary to former Bronx Borough President Fernando Ferrer.)
Hence his appearance at an immigration forum—miles away from the Irish, Italian and Jewish enclaves in his district—where he offered the crowd some elementary Spanish and bromides on how to fix the immigration process. "We want people who work, not terrorists," he said. And: "My position is, we should embrace people who follow the law."
"Far too often, we don't have gatherings like this," he told the crowd. "I honor you for doing it."
Mr. Martinez translated Mr. Weiner's speech in segments as he spoke, and Mr. Weiner studied the councilman intently. "Licensia," he muttered to himself as Mr. Martinez translated what Mr. Weiner had said about Governor Eliot Spitzer's failed plan to provide driver's licenses for illegal immigrants. ("Whether or not it was a good plan or a bad plan, I happen to think they could have gotten it done if they had approached it differently," he said. "I read about it in the newspaper").
An audience member asked if Mr. Weiner was capable of "dealing with all the Latino issues."
Mr. Weiner's enthusiastic response: "Sí!"
As the forum concluded, Mr. Weiner's staff—a young woman in red patent-leather high heels and a fitted skirt suit, and his communications director, Glen Caplin, who wore a brown suit, no tie and brown suede New Balances—tried to hustle him out to his car, but he couldn't resist posing for photographs with members of the crowd who had stayed behind. He gave a young boy his business card and said, "If you've got any ideas for me, write them on the back and send them to me."
MR. WEINER WAS raised, one of three children, in the Park Slope of the 1960's and 1970's; he went to public schools and graduated from Brooklyn Tech in 1981. His mother was a teacher at I.S. 88 in Park Slope; his father, a lawyer.
His first job in politics, after graduating from SUNY-Plattsburgh in 1985, was opening letters for Charles Schumer. (At the time, Senator Schumer was the congressman for the district Mr. Weiner currently represents.) Heavily influenced in his outlook by Mr. Schumer, Mr. Weiner has consistently received perfect scores from the Drum Major Institute for his voting on "middle-class issues," which—along with being outspokenly pro-Israel, even by New York standards—seems to form the bedrock of his legislative philosophy.
After the event in Washington Heights, Mr. Weiner jumped into the driver's seat of his Ford Escape hybrid, with Mr. Caplin sitting in the backseat taping the interview with The Observer. (Mr. Caplin is leaving Mr. Weiner's employ, after two and a half years, for a job with the PR firm Rubenstein Communications, which also represents this newspaper.)