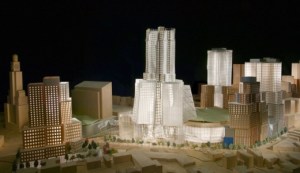 It makes sense that a movement that has focused as much on minute details, uncovered documents, and meticulously analyzed data as the opposition to Atlantic Yards has should find its highest expression in a trivia night. But here it is: the Develop Don't Destroy edition of Trivial Pursuit, to take place Thursday, Jan. 17, at Rocky Sullivan's pub in Red Hook.
To whet your appetite, we asked the host, Scott Turner (himself an Atlantic Yards opponent and blogger), for some sample questions:
1) How did AY's new Ombudsman, Forrest Taylor, describe the project when his appointment was announced?
2) What percentage of the Nets did Jay-Z own when the sale was announced?
3) How many permanent jobs were initially promised by Bruce Ratner, and what is the latest figure?
Word is, Norman Oder could play with one arm tied behind his back–and still win!