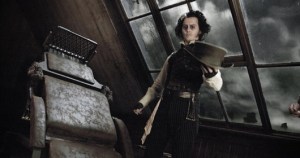 SWEENEY TODD
Running Time 117 minutes
Written by John Logan
Directed by Tim Burton
Starring Johnny Depp, Helena Bonham-Carter and Alan Rickman
Finishing off the year with a bang, Sweeney Todd, the splendid and long-awaited movie version of Stephen Sondheim's masterpiece of music and mayhem, was saved for an edifying adieu. It is distinguished, hypnotic, brilliantly executed and positively electrifying.
I'm not a fan of either Johnny Depp or director Tim Burton, so my skepticism that they might turn a masterpiece into one of those tacky Hammer movies with Christopher Lee or Peter Cushing was inescapable. It was also, it turns out, needless. They have captured the artistic decadence and cynicism of the 19th-century London slums with horror and extravagance, their passion for the grim, gothic and grotesque fully nourished by the blood that washes through the gutters and into the cobblestone streets beneath the charnel house run by the Demon Barber of Fleet Street. Yes, expect blood, blood, blood—buckets of it! Sweeney Todd might not be the kind of movie that pleases the masses, and considering the commercial demands of today's mindless TV-educated and computer-enslaved audiences, there is no way of estimating how many literate ticket buyers exist who will keep a work of such stimulation and imagination running, but anyone lucky and adventurous enough to investigate the challenges on display here will be rewarded with a theatrical triumph that is light years ahead of most movie fare. For the hoi polloi, there is always the gore.
Well schooled in the canvas of Halloween spooks and cemeteries at midnight, the Depp-Burton team has made so many creepy films together they now work in shorthand. They are ideally suited for the operatic legend of Sweeney Todd, a dirge told and sung through the decades by London nannies of rebellious children: "Go to sleep now, or Sweeney Todd will get you if you don't watch out!" It's a tale told in song, dialogue and pantomime, and it's not a pretty one. You know the story: The script John Logan has distilled from the richly embroidered original Broadway scenario by Hugh Wheeler concerns the injustice heaped on an innocent barber named Benjamin Barker, once a happy and respectable family man, who's arrested on a false charge, convicted and deported to an isolated prison in Australia by the evil Judge Turpin, who coveted Barker's beautiful wife and lovely daughter for his own lascivious purposes. Barker returns after 15 years, an escaped convict with the new identity of Sweeney Todd and a master plan for vengeance against the rogues who destroyed his life. Finding his old barber chair preserved and his gleaming silver razors hidden under a loose floorboard upstairs above the rancid bake shop of a grim harridan named Mrs. Lovett, who makes "the Worst Pies in London," Sweeney opens for business, ready to cut the hair of his enemies—and that's not all. Sweeney lulls his customers into a relaxed condition with musical cadenzas, slashes their throats with the speed of a dentist's drill and drops them down a chute into Mrs. Lovett's ovens, and she bakes them into meat pies to feed the starving populace. Demented beggars, one-legged creatures, babbling bag ladies, snarling prostitutes, powdered dandies, sailors from the wharf, lunatics from Fogg's Asylum and a phalanx of crawling, hobbling humanity invade the story and sweep it into a crescendo, blending Grand Guignol and grand opera to tell a sprawling story of murder and madness in the days of plague hospitals, psycho wards and serial killers in a Victorian underworld careening dangerously toward political anarchy. Tim Burton wastes no time establishing the lethal ambience. In the opening number, "No Place Like London," Johnny Depp emerges from a ghost ship in the fog with hollow, cadaverous eyes and a shock of silver in his shaggy hair, looking like Elsa Lanchester in The Bride of Frankenstein, plunging you immediately into the filthy, rat-infested Whitechapel alleys of Jack the Ripper, Dorian Gray and the Elephant Man.
Although the story, set in the 1840's, precedes Jack the Ripper by 40 years, there is evidence, in Johnny Depp's chilling performance in the title role, of the cold-blooded mendacity of those fateful days in the autumn of 1888, when Jack held London in a grip of terror. Look closely and you get a glimpse of the heart that beats within a vampire, as well as the fangs. The cheap effects are saved for Helena Bonham-Carter, the director's wife, who turns Mrs. Lovett into a goth crone from a Charles Addams cartoon. She's no Angela Lansbury, who was directed by Harold Prince on Broadway to show the pain and despair that fiendishly drove her to become a love-starved partner for Sweeney's satanic enterprises. In Ms. Lansbury's perfect timing, gruesome sense of gallows humor and loyalty to a monster, we saw a memorable fool for love. If Ms. Bonham-Carter even thought of duplicating Ms. Lansbury's humanity, she was driven between a rock and a hard place by her director-husband, who eschews any hint of sentimentality and turns Mrs. Lovett into a hardhearted Hannah. When she emerges from her pie shop, hair rising in ratty knots and made up with black circles around her eyes like a raccoon, she's a ratty Brunehilde in need of a hairdresser. When filthy stains dripped from her apron as she bustled about in a cloud of flour and dust, picking insects from her pie crusts, dropping unthinkable, foul-smelling ingredients into her fillings like one of the witches salivating over the cauldron in Macbeth, Ms. Lansbury was hilarious—and, yes, endearing. Ms. Bonham-Carter is merely macabre. It's a murderous role, vocally and dramatically, with a range this actress is incapable of. Since much of what she must do is in recitative style, she must sing very fast in shifting octaves, while maintaining every semblance of her cockney accent and working with an interminable number of props, singing while she runs, kneads dough, serves pies and ale to noisy customers and pops victims in the oven. Filling Ms. Lansbury's shoes is an impossible task, and it's unfair to even expect it of her, but there is nothing mercurial at all about Ms. Bonham-Carter, and she accomplishes even less than the ghastly Patti LuPone did in the recent bargain-basement Broadway revival to turn the bawdy Mrs. Lovett into a creature of flesh and blood and feelings. However, when the maniac and the crone team up on "A Little Priest," one of the best songs in the show, some of the original panache returns as the deadly duo prances around the pie shop, determining what kind of pastries to make from the bodies of their future victims. With his razor gleaming at the end of his arm as though attached by chromosomes, and with her rolling pin flying, they relish the different flavors their human ingredients will bring. The song sounds repellent, but it is immensely clever. The entire cast does its own vocals, and the Jonathan Tunick arrangements camouflage all flaws admirably. Mr. Depp wisely avoids all temptations to modernize Sondheim with rock inflections, and does a surprising job of really singing the score as written. Shifty-eyed, prissy-mouthed Alan Rickman is a magnificently maleficent Judge Turpin, and his duet with Sweeney on "Pretty Women" becomes the pivotal lyrical articulation with which the twisted relationship between the two tortured characters is expressed. As the sinister Beadle, the judge's malevolent henchman, the bulbous-nosed, green-toothed Timothy Spall has the gross look of a humongous rodent. Chewing the asbestos off the scenery, the repulsive Sacha Baron-Cohen, as an Italian snake oil salesman and rival barber named Pirelli, has the shallow, flamboyant quality of an old vaudevillian, but he's still Borat. Newcomers Jayne Wisener, as Sweeney's daughter Johanna, and Jamie Campbell Bower, as the young sailor who tries to save her virginity from the clutches of the lecherous judge, are too bland to make any impression at all. Still, nobody approaches Mr. Sondheim's work as they would any other songwriter. "Nothing's Gonna Harm You" remains dark and beautiful, and the whimsical "By the Sea," with Sweeney and Mrs. Lovett in period bathing costumes against the brown-sugar sands of an imaginary beach, adds an optimistic touch to the noxious tone.
There are caveats: Some of Mr. Sondheim's lyrics, which demand a commitment and concentration from the audience at all times, are sacrificed for stage movement. Sometimes the staging gets in the way of the plot. At other times, the comic relief dilutes the acid undertones of the piece, when the story cries out for more bleak and musty shudders than it delivers. I'm not sure you can cut away from the group activities on a stage to focus on close-ups in traditional or conventional movie musical terms without losing the tableaux-like fabric of a piece as richly embroidered as Sweeney Todd. Some of the best musical numbers have been cut for no satisfactory reason, and nothing can justify the deletion of the title song, whose lyrics ("Attend the tale of Sweeney Todd …") set the tone of the entire evening. Other songs are used as brief bridging passages. I had hoped for a more expansive view of London in the time of the Industrial Revolution, but most of the action is contained on what looks like obvious movie sets constructed with hammer and nails. One of the things I remember most vividly about the impressive and authentic award-winning stage designs by Eugene Lee is that he went up to Rhode Island and purchased an iron foundry, then spent $100,000 to have it shipped to New York, where it took three weeks to erect on the stage of the Uris Theater. The result was a gigantic junk heap of boilers and engines and steam pipes, of chimneys spouting real smoke against a gargantuan backdrop of iron, brick, aluminum and corrugated steel. With even more money to spend, the movie comes nowhere near the same panorama of England in 1840, a time of misery, poverty and crime, when London and the industrial centers were viewed by historians as a Bedlam of writhing humanity, collecting vermin with no outlet for pent-up emotional distress—a perfect place for the creation of ghouls like Sweeney Todd. As for Mr. Sondheim's most ambitious score, no long bel canto lines and no sensuousness of tone illuminate the greatness of the music, but Mr. Sondheim has been quoted as saying he prefers actors who sing over singers who act, and he gets his wish. There were times when I wished otherwise.
Is it the piece itself that has captivated me, or the movie Mr. Burton has made of it? Probably a bit of both. If less than perfect, this version does not diminish the impact of the historic Broadway original. My reservations are minor. It is a colossal experience—solid, shivery, multidimensional, a work of true genius. I consider it a privilege to be part of the adventure, regardless of its commercial outcome. At a time when movies feed unsophisticated and undemanding audiences Wheatena, Sweeney Todd serves a walloping bouillabaisse that just might nourish us through Hollywood famines still to come.