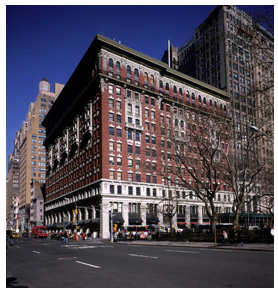 Considering that Lee Bollinger gets the 95-year-old McKim, Mead & White-designed President's House at Columbia University, or that even his deputy Robert Kasdin has a $3.48 million co-op on Central Park West, you'd think the president of a school like Baruch College would at least get a penthouse downtown.
Kathleen M. Waldron, an ex-Citigroup exec who became Baruch's president in 2004, was offered the A-line penthouse at Grand Madison, the 101-year-old ex-showroom at 225 Fifth Avenue that was turned into condos this year. But, according to school spokesman Jay Hershenson, Dr. Waldron didn't want the apartment, which the City University of New York closed on last month for $2.45 million.
"President Waldron indicated that she would prefer renting an apartment," Mr. Hershenson said. "Which is perfectly fine."
CUNY isn't angry, even though the penthouse was bought in the recruiting process to bring Dr. Waldron to Baruch, and even though the president had been expected to host fund-raising parties there. "This is an apartment in a terrific location, as you know," the spokesman told The Observer, "so the university is going to resell it." A broker hasn't been picked yet.
Where will Dr. Waldron live? She's been given a $60,000 annual housing allowance, which means $5,000 per month. And that means she's going to have a hard time finding a place like the penthouse she could have had: A floor plan shows that the 1,724-square-foot penthouse has two floors, although the top flight of the duplex only has a master bedroom and a 633-square-foot terrace.
(At $5,000 a month renting, the best Dr. Waldron can do now is something like a two-bedroom apartment at the Cipriani Club Residences on Wall Street, but it would be just 20 square feet bigger than her potential penthouse's terrace.)
So why did she give Grand Madison up? The contract was first signed in May 2006, and it took too long to close. "Let me say the following," said Mr. Hershenson. "She has every right to indicate her preference."