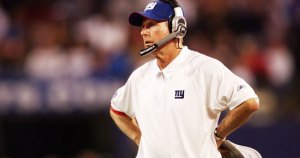 It's true, technically, that the Giants could sit their starters this week against the Patriots.
But they shouldn't.
Although a loss wouldn't affect the Giants' playoff spot, they need a win, or at least a good battle.
>> The New York Jets Offseason Wish List by Josh Curtis
The Giants, who face a first-round matchup against Tampa Bay, must send out their starters and show that they can beat an elite team.
They should throw an array of blitzes at Tom Brady, as they did against Trent Edwards last week. On the offensive side, coordinator Kevin Gilbride should continue to lean on the rush over the pass.
Effort counts here. Even if they lose a close game against undefeated New England, they'll have that much more of an emotional and mental push going into the playoffs. And given that New York hasn't won a single postseason matchup under Tom Coughlin, it's hard to see the downside of trying a different approach to the end of the regular season.
The Giants will have a chance to continue the progress they made last week against the Bills. With Brandon Jacobs banged up with a sprained ankle, rookie sensation Ahmad Bradshaw will most likely get the majority of the carries out of the backfield after an astounding 151-yard display that included a speedy 88-yard touchdown scamper. And if there's any chink in the nearly impregnable armor of the Patriots, it's their run defense—they're ranked 10th in the league against the rush, allowing nearly 100 yards per contest.
If Coughlin decides to pull his stars after a few series early in the game, he'll be admitting defeat and sending the message to his players that he lacks confidence in them and is willing to waste a game. But by sending everyone out for an all-out attempt to end the Patriots' streak (or at least come close), the Giants will be able to head into the playoffs with the swagger they've been missing all season.