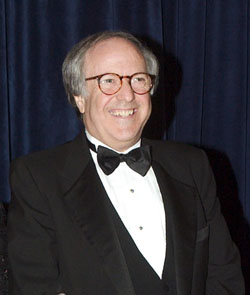 "I get these deals because of the client and the book, not because of me. I may facilitate putting the client with the right publishing house and the right editor, I may conduct a negotiation which results in the client getting the best deal available … but ultimately it's the client and the book that gets the deal, not me. Anytime I or anyone else who does what I do loses sight of that, we're fooling ourselves."
Robert Barnett, a 61-year-old lawyer at Williams & Connolly known in New York mostly for brokering massive book deals, was in his Washington, D.C., office on Monday morning, wearing a gray suit and a bright necktie decorated with animals and flowers. In the half-hour he had before flying to Iowa to prepare Senator Hillary Clinton for last night's Democratic debate (for Mr. Barnett, lawyering is an expansive occupation), he was talking about how little he had to do with the astonishing regularity with which publishers agree to pay his clients enormous amounts of money to write books.
The week before, Mr. Barnett had arranged for Senator Edward Kennedy to receive more than $8 million for his memoirs, which will be published in 2010 by Twelve, an imprint of Hachette Book Group USA. (See story below.) Before that, Mr. Barnett was in New York with Karl Rove, meeting with publishers who are considering participating in an auction, scheduled to begin this week, for the former White House strategist's memoirs.
>> Related: Inside the Kennedy Auction: The senator's memoirs sold for over $8 million. So what's he going to write about, anyway?
While reason suggests that Mr. Rove's book will not draw an advance quite as high as Mr. Kennedy's—Mr. Rove is not famous outside of the United States, so foreign rights to the book will not be especially lucrative—it is difficult to imagine, given his track record, that Mr. Barnett will walk away from the auction with anything less than a spectacular deal. Indeed, his recent performance in the book market has been pyrotechnic. A month before he closed on Kennedy, he presided over an auction for Tony Blair's book, which Knopf won; the publisher shelled out a reported $9 million. And about a month before that, he was celebrating the release of Alan Greenspan's Age of Turbulence, which he sold to the Penguin Press the year before for a reported $8.5 million. For Hillary Clinton's memoirs he got $8 million; for her husband's, he got somewhere between 10 and 12. ("President Clinton's figure has never been accurately reported," said Mr. Barnett, who didn't offer to clear up the mystery.)
Forgive the cliché, but it really does seem like everything Mr. Barnett touches turns to gold. One might expect Mr. Rove's book to push eight figures on inertia alone.
Mr. Barnett, for his part, is as aggressive in his self-deprecation as he is in his professionalism, and he insists that his clients, being who they are, would do just fine without him.
"I hope that when I call [publishers], they know that I have carefully considered the project and judged it in my limited view to be viable," Mr. Barnett said. "I hope they know that I wouldn't waste their time otherwise. But they're going to make a judgment based on what they see and what they hear, not on whether I bring it to them. And that's the way it should be, because I'm not writing the book. I don't have enough talent to do so."
There is a certain stoical detachment in the way Mr. Barnett talks about his career in book publishing, partly because he sees everything he does—whether it's representing McDonalds in court, helping a retired politician schedule speeches or brokering a book deal—as legal work. He charges a $900 hourly rate for his services no matter the task: an implicit critique of the commission-based business model followed by the New York literary agents who are competing with him. And whereas some literary agents—a breed Mr. Barnett is careful not to identify himself with—might try to play publishers against each other, and sometimes even report bids they have not received in order to inflate the pot, Mr. Barnett is known for his candor.
"He's just a straight shooter," said Random House editor Susan Mercandetti, who bid unsuccessfully on the Kennedy book. "You never have to think there's something behind his back. … It's just very straightforward, you know where you stand, there's no funny stuff."
Still, like New York agents, he does enjoy taking lunch at Michael's: "He's a client, and I like the food," said Mr. Barnett.