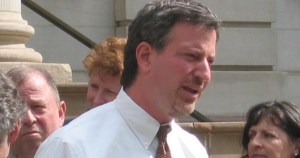 City Councilman Bill de Blasio of Brooklyn spent late 2003 and early 2004 traveling to Iowa as a volunteer to help his candidate at the time, John Edwards, engineer a surprisingly strong showing in the caucuses there.
Now he's back in the Hawkeye state, helping fellow New Yorker Hillary Clinton compete in what has become a tough contest. "I think folks from Iowa, like people in New Hampshire, they're used to people coming in from the outside, probably more so than any other place in the country," de Blasio told me earlier this week from the city of Clinton (seriously), just north of Davenport.
"The outsiders are facilitators," he said.
De Blasio, who also managed Clinton's 2000 Senate campaign, thinks Iowa is significant for both New York candidates, but for different reasons: "This could be a breakthrough moment for Hillary and a death knell for Rudy."
He spoke modestly of his candidate's chances of winning, just as she has herself in recent days. "There's no one definition of victory—it's about expectations," he said, lowering expectations. "They're all going on to the next round. I don't think there's a single standard."
Asked to contrast his two Iowa experiences, he described the difference between Edwards' surprising, under-the-radar late boom and Clinton's systematically constructed base of support. "Edwards was surging in the final days," he said. "I went out to Iowa City for that one. Helped organize a precinct that night. This time, for Hillary Clinton, there's a huge amount of staff and the organization is very developed. I'm here to back up and reinforce what people have been doing for months."