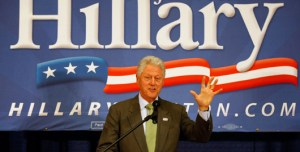 On Saturday night, after a quick misstep into a place called Scooters (fog machine, dance floor grinding) during a search for a TV showing the Giants-Patriots game, I found the bar of the Hotel Ottumwa, where the owner, Tim Schwartz, had also just returned from a Barack Obama event at the local high school.
"I could support him," Schwartz told me, as he tossed some cocktail napkins on the bar. "He's a dynamic speaker and he brings up some issues, but I'm probably going to caucus for Hillary."
When I asked him why, he said something vague about experience and then said, "Well, it's the Bill factor. He brings a lot to the table."
It turns out that Bill Clinton will be spending part of New Year's Eve at the Hotel Ottumwa. Schwartz had just ironed out the last details with the Clinton campaign. That, he said, helped seal the deal.
"It's not every day that you can have Bill Clinton at your New Year's party," he said.