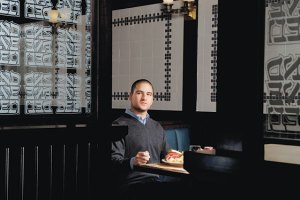 Jeremy Lebewohl is a big fan of "kishke, you know, derma," as he recently told New York magazine.
But, Monday morning, it's all about the "nickel shtickel."
Mr. Lebewohl and family will cut the ceremonial salami at 11, officially reopening his late uncle Abe Lebewohl's beloved Second Avenue Deli at 162 East 33rd Street near Third Avenue.
The Observer will be on hand to cover the festivities.
"There's not a single deli in Manhattan that can compare," young Mr. Lebewohl has said.
What does this mean for rival Jewish deli Sarge's, located four blocks away?
Stay tuned.