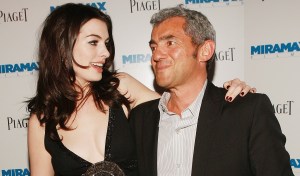 The New York Times' David Carr takes a look inside the mind of Daniel Battsek, the man whom the Weinstein brothers left behind at Miramax to carry on their tradition of making risky, quality films.
Mr. Battsek, 49, a soft-spoken Briton whose first significant industry job came in the international division of Miramax, makes little effort to distance himself from the Weinstein filmmaking legacy. And why would he? Under the Weinsteins, Miramax films were in the running for best picture 11 years in a row beginning in 1992, had 249 nominations over all and won 60 Academy Awards, including 3 for best picture. It is an unrivaled run through the Oscars, but Mr. Battsek is doing a fine job of keeping up. In 2005, his first year running the company, "Tsotsi" won best foreign film. Last year "The Queen" garnered six nominations (including best picture) and an Oscar for Helen Mirren in the best actress category, while Peter O'Toole was nominated in the best actor category for "Venus."
And this year looks promising as well. Yesterday the National Board of Review named the studio's "No Country for Old Men" best picture, and "The Diving Bell and the Butterfly" was named best foreign film. Amy Ryan received best supporting actress for her role as a conflicted mother in "Gone Baby Gone," and Ben Affleck was awarded best directorial debut for that film.
"The brand itself is in great shape," Mr. Battsek said in late November, sitting in a modest office that has no desk, much less a throne. "Harvey and Bob made it that way, and I owe them a debt."