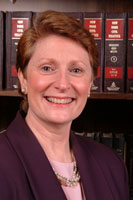 City Council candidate Evan Thies of Williamsburg thinks the 2009 Council races will draw a line with voters between two factions of the Democratic party: progressives versus "machine" Democrats.
His opponent, Jo Anne Simon, disagrees. "I don't know of any insider that is running," she told me. "So, I honestly am not sure why he's chosen to make an issue of that in that way."
In addition to being a private-practice lawyer, Simon is a state Democratic Committeewoman and District Leader, both official positions in the local Democratic Party party apparatus.
Asked if her credentials make her something of an insider, she replied, "I suppose superficially, people can say almost anything." She added, "Obviously, I'm in the 52nd Assembly District. We have always been a reform district. We have always been independent in our thinking. I have always maintained, certainly, a civil relationship with the county leaders. I've often voted my own ways on issues."
UPDATE: I should have made it more clear, but Thies' comments about "progressives" versus "machine" candidates wasn't directed Jo Anne Simon, or at any particular candidate. But today's Crain's Insider seems to offer something on the topic; it reports that the chief of staff to Brooklyn Democratic County Leader Vito Lopez, is eyeing a run for the same seat.