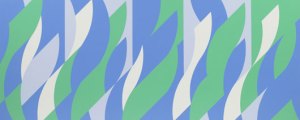 The British painter Bridget Riley has had a career most artists would kill for. Her place in the history books as the chief proponent of Op Art, a mode of picture-making in which sharply defined patterns create eye-bending visual effects, is assured. Ms. Riley's optical warping-and-woofing made her an art star before the term was coined. She's been feted with numerous solo exhibitions, museum retrospectives and a status befitting a stylistic innovator.
It's difficult to pity Ms. Riley, but the splash made by Op Art towers over her subsequent accomplishments; she's been pigeonholed. This is somewhat frustrating to her admirers, given that Op Art is firmly wedged into its historical context; it's as dated and kitschy as black light posters or swinging, Carnaby Street gear.
Since then, and to less fanfare, Ms. Riley has become a better and more complex painter. Two major exhibitions dedicated to recent gouaches and paintings at PaceWildenstein's Chelsea and 57th Street outposts confirm the fact. The blue-chip venue thinks the world of Ms. Riley. Anyone with an eye for painting will likely agree.
Ms. Riley is the most articulate advocate of painting we now have. Her essays on Mondrian and the art form's maligned standing in contemporary culture are required reading for devotees of painting. Bringing the same sharp and encompassing intellect to her art, Ms. Riley invests it with characteristic acuity and has, more importantly, earned it.
As conversant with Titian and Veronese as she is with Seurat and Cézanne, Ms. Riley the painter builds upon precedent without reiterating it. She's anchored and propulsive, knowledgeable but constitutionally incapable of coasting on expertise. This paradoxical dynamic powers the best art, and so it is with Ms. Riley's. It's little wonder that she's "surprise[d], startled … when I know that I am on my way to making a painting."
Ms. Riley's paintings are defined by color and rhythm. The work's crisp, hand-painted contours owe much to Matisse's forays into decoupage, but the more telling similarity is a severe and relentless hedonism. It's fitting, in a way, that Op Art's quasi-scientific basis hasn't been altogether abandoned. The sunspot palettes of Painting with Verticals 1 (2006) and Painting with Verticals, Cadence 6 (2006) are tensile in their chromatic shifts of temperature and intensity.
Ribbons of uninflected color intersect, overlap and shimmy over expansive fields; each form slopes into another. The emphatically horizontal formats bring to mind landscape. The association is evident not only in Ms. Riley's leaflike forms, her curves, but in flickering light and an enveloping, panoramic space.
Each of Ms. Riley's canvases surrounds us with what the show's catalog describes as "sensations somehow familiar with nature." Whether she works from the natural world or arrives there is less important than the ultimate embrace: The pictures look outward, welcoming nature's bounty and variety, notwithstanding the strict limits of form Ms. Riley has set for herself. Unlike the Op pictures, these are paintings, not exercises.
That's not the case with Wall Painting 1 (2007), an ill-advised attempt at installation art wherein Ms. Riley succumbs to, rather than vivifies, the decorative. She thrives when working with (and against) painting's unremitting strictures.
Everyone's allowed a stumble or two. The rest of the time, Ms. Riley strides forward, ever questioning and with commanding focus. This is where she earns her place in history. Now if only history would catch up already.
Bridget Riley: Recent Paintings and Gouaches is at PaceWildenstein, 32 East 57th Street and 534 West 25th Street, until Jan. 5.
Rigor and Disjunction
Pavel Zoubok Gallery has mounted a lovely exhibition of collages, paintings, watercolors and constructions by Elaine Lustig Cohen. Covering over 40 years, it highlights a temperament forever grateful to Modernism, particularly in its Suprematism and Dada incarnations. Distilling their rigor and disjunction, respectively, Ms. Cohen renders her influences agenda-free. Bubble Ready (1999), a collage that transports classical statuary into the nuclear age, imagines Hannah Hoch freed from the awful cloud of Nazi Germany.