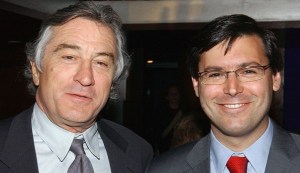 At the kick-off fund-raiser for David Yassky's campaign for city comptroller last night, I asked him to tell me a little about the race, which will be his second high-profile bid in as many years.
"Well, it all started when I was five," Yassky jokingly began, before turning serious.
"I started in city government when Koch was mayor, 20 years ago, at the budget office. I talk about it because that is where I first saw what a difference it makes whether you spend money on something that's a big waste or whether you spend money on something that has a big effect," he said.
"We've actually made some serious progress in the last six years, in good measure thanks to Mayor Bloomberg's leadership," Yassky went on. "Our challenge is going to be how to keep doing that in the next city government, under tougher times. One of the things I feel most excited about Bloomberg's six years, these six years, is we have a city government where a good idea can get accomplished: the taxi bill, the film tax credit and others."
There weren't many politicians there, but lots of friendly faces, including Yassky's parents, Lester and Harriet, his sister Rachel, his former aide Evan Thies and his former election lawyer, Jerry Goldfeder.