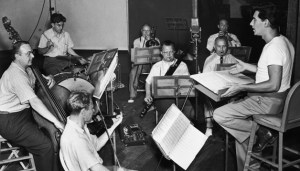 Carnegie Hall and the New York Philharmonic will present Bernstein: The Best of All Possible Worlds, a citywide festival in 2008 celebrating the work of the late composer Leonard Bernstein. The festival will celebrate both the 90th anniversary of Bernstein's birth and the 50th anniversary of his appointment as the Philharmonic's music director.
The Observer's Benjamin Ivry wrote about Mr. Bernstein:
As a composer, performer, writer and teacher, Bernstein made an indelible impression in this city as music director of the New York Philharmonic from 1958-1969 and laureate conductor thereafter. He kept an apartment at the Dakota, lodged his family a commute away in Fairfield, Conn., and penned the ur-New York Broadway musicals West Side Story, On the Town and Wonderful Town.
The festival will kick off Sept. 24, 2008 when Carnegie Hall launches its 2008-09 season with an All-Bernstein Opening Night Gala. The evening will feature Michael Tilson Thomas and the San Francisco Symphony as well as performances by Dawn Upshaw, Thomas Hampson and Yo-Yo Ma. Concertgoers can expect to hear selections from Fancy Free, A Quiet Place, On the Town, Wonderful Town, Candide and West Side Story.
More than 30 events will celebrate the life and career of Mr. Bernstein from Sept. 24-Dec. 13, 2008.
In a statement Carnegie Hall's executive and artistic director Clive Gillinson said, "All of us at Carnegie Hall are very proud to be presenting — jointly with his great orchestra, the New York Philharmonic — this special celebration of Leonard Bernstein. Lenny appeared on Carnegie Hall's stage more than 400 times in his career, with audiences experiencing his talents as performer, composer, and master educator. Well beyond our walls, he inspired an entire generation, bringing music to the center of people's lives all around the world. A celebration of Lenny is a celebration of life and a celebration of music. His love of life and of music, allied to his insatiable curiosity, inspired everyone, informing our appreciation and understanding of music for a lifetime. We look forward to joining our partners in placing special focus on someone who was not only a remarkable artist and a great New Yorker, but also someone who truly belonged to the world. Lenny was music!"
…
On Nov. 14, 2008, the New York Philharmonic will present an all-Bernstein program led by music director designate Alan Gilbert. The evening will include Bernstein's music for the concert hall, theatre and film, including two West Side Story suites.
The City Center Encores! series will also pay tribute to Bernstein with a semi-staged production of the classic Bernstein, Comden and Green musical On the Town. The musical comedy will play City Center Nov. 19-23, 2008.
Some of the many other highlights of the Festival follow.
•Oct. 17 at 8 PM at Carnegie Hall's Stern Auditorium
The New York Pops at Carnegie Hall: The Bernstein Songbook
Christiane Noll will join The New York Pops and conductor Constantine Kitsopoulos for an evening of Bernstein's best-loved songs.
•Oct. 22 at 7:30 PM at Carnegie Hall's Zankel Hall
Standard Time with Michael Feinstein
Vocalist/pianist Feinstein will explore Bernstein's song output.
•Oct. 24 at 8 PM at Carnegie Hall's Stern Auditorium
Bernstein's Mass featuring Marin Alsop and the Baltimore Symphony Orchestra as well as the Morgan State University Choir and Brooklyn Youth Chorus.
There will also be several film screenings: "The Joy of Music: Leonard Bernstein on Film" (Oct. 15-Nov. 1 at the Walter Reade Theater at Lincoln Center); "Leonard Bernstein: Reaching for the Note" (Oct. 16 at the Jewish Museum at 5th Avenue and 92nd Street); and "Bernstein's Broadway" (Nov. 8-23 at the Paley Center for Media).
The Festival will also feature panel discussions and lectures, exhibitions, educational activities and family concerts.