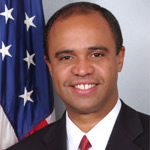 Adolfo Carrion is entering the city comptroller's race, according to prepared remarks of his speech to ABNY, a business and civic group which is hosting a breakfast for Mr. Carrion in midtown this morning.
Money from Carrion's citywide 2009 committee will be eligible for his comptroller bid.
Today's announcement is great news for Bill Thompson, the current city comptroller and the only minority candidate seriously eyeing a mayoral bid. Thompson's presumed ethnic base of support could have been split by a Carrion candidacy.
"As a student of cities and of the economy I am ready to take on even more responsibility. And so I have decided to run for…NYC Comptroller in 2009," Carrion said, according to the prepared remarks.
UPDATE: Peter Kauffmann at Glover Park just sent out the following statement from Council member Melinda Katz, who is also running for city comptroller:
"I welcome Adolfo to the race. I have long recognized the important role the comptroller's office can play in bettering the lives of New Yorkers. This is a job I've been training for for 20 years – from my time as a mergers & acquisitions lawyer, to my work on the state budget in the Assembly, to expanding economic development for the entire city during my tenure as Chair of the Land Use Committee.
"I began to prepare to run more than a year ago. In this time, more than 800 people have contributed to my campaign, and I am so fortunate to have the very early support of Rep. Yvette Clarke, as well as a strong contingent of labor including RWDSU, the Mason Tenders, local 1500 UFCW, local 338 RWDSU, and the Plumbers Local 1. I look forward to engaging in a dialogue with New Yorkers over the next two years about how I can best use the power of this office to keep the city on strong financial footing and to make the kinds of decisions that reflect my record as a proven fighter for the city I love."