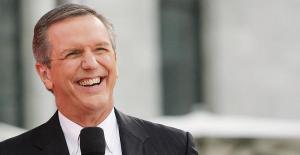 It's that time of the year when, all across New York, even more TV anchors, producers, and news crews are getting ready to pack up their bags and head out to the frontlines of the presidential campaigns.
That group includes, ABC's Charlie Gibson, who will soon be heading out to New Hampshire.
On Saturday, January 5, Mr. Gibson will be moderating back-to-back Democratic and Republican presidential debates at the campus of Saint Alselm College in Manchester, New Hampshire. Mr. Gibson will be joined in the questioning by WMUR-TV anchor and political director Scott Spradling.
The 90-minute debates will air nationally on ABC beginning with the Republicans at 7:00 p.m, and followed by the Dems at 8:45.
In keeping with the recently announced Facebook-ABC partnership, Facebook users will be invited to participate in so-called "Debate Groups," coinciding with the back-to-back debates.
In a press release announcing the event, ABC News president David Westin said: "Coming on the heels of the Iowa caucuses, these back-to-back primetime events will let voters in New Hampshire and throughout the country see the candidates challenge each other at a moment in the campaign when the stakes couldn't be higher."