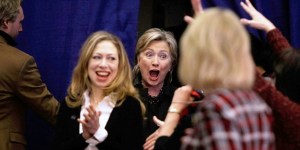 Chelsea Clinton appeared on stage with her mother on a half dozen stages in a half dozen towns in Iowa yesterday without saying a word. (She tells reporters, as a matter of policy, that she doesn't speak to the press.)
She does, however, talk to voters on the rope line.
"Thank you for coming," she said to an attendee after one of her mother's stump speeches. "I hope you are going to caucus for my mom."
"Say yes," Chelsea said moments later to a man holding a camera.
He mumbled something and nodded.
"Yes!" Chelsea said, before turning and walking away.