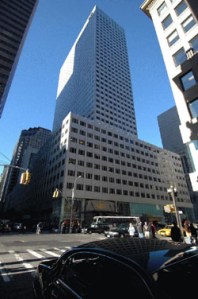 Citigroup will give up about one-fifth of its space in 666 Fifth Avenue, the aluminum-clad 41-story tower with the Citigroup logo at its top.
The bank's lease of about 75,000 square feet, covering the entire third floor, will not be renewed when it expires in August 2008, a Citigroup spokeswoman confirmed for The Observer, with affected employees slated to be moved to other spots in New York City.
"The decision is part of Citi's continual evaluation of our real estate footprint and reviewing the mix of employees at various locations," the spokeswoman, Amalia Duarte, said in an e-mail. "This move will help make the best use of our facilities by consolidating employees within other existing sites."
(Jared Kushner, publisher of The Observer, is a principal at the Kushner Companies, which owns 666 Fifth Avenue.)
While Ms. Duarte did not say that the move was related to the bank's current financial perils, one could not help but wonder if the billions of dollars in write-downs the bank is facing have anything to do with the decision.
While almost all of the major financial firms in the city have been suffering from the mess in the subprime lending market, Citigroup seems to have been hit especially hard. CEO Charles Prince stepped down in November around the same time that the bank announced it could expect a write-down of between $8 billion and $11 billion for the fourth quarter. Those amounts come on top of the $6.5 billion in write-downs the bank recorded for the third quarter.
Given the staggering drop in value of the company's holdings, layoffs have been rather slim. In April, before the markets took their late-summer hit, Citigroup announced it would cut 1,600 New York City jobs, though now the company is reportedly considering cutting up to 45,000 jobs across its global workforce.
Such cuts would likely open up office space in New York, where the bank is one of the city's largest private employers, leasing millions of square feet of commercial real estate throughout the city.
Even before the credit crunch hit this summer, Citigroup had been adjusting its New York City real estate portfolio, selling numerous buildings as it seeks to leave the landlord business.
Citigroup is the anchor tenant in 666 Fifth Avenue, where it has 355,000 square feet. The space being vacated is listed at $95 a square foot annually, according to the real estate tracking firm MrOfficeSpace.com.