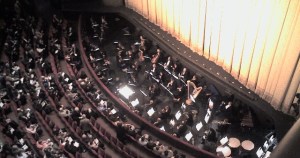 We told you last month that the New York City Opera and the New York City Ballet company finally came to an agreement about renovations to their shared Lincoln Center theater. But those renovations might cause the Opera to cancel its 2008-09 season at the theater, or maybe relocate performances to other venues, according to the Associated Press.
"There was always the possibility that we would have to be dark for some or all of the '08-09 season," [City Opera chairman Susan] Baker said Thursday. "We're only part of the way through the process, which we're going to try to move along as soon as possible."
She said the opera's board will discuss the matter when it meets next week but probably would not make a decision then.
"At the moment, our thinking is that if we have to be dark in the State Theater for part of the '08-09 performance season, what we would do is have some non-traditional season in other venues," she said.