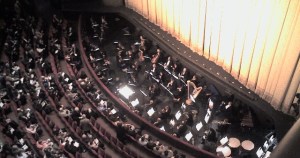 The New York State Theater will go dark during New York City Opera's 2008-9 season so that it can be renovated. Susan L. Baker, chairwoman of the company, said that opera officials did not resent having to lose the company's home for 2008-9, even though the New York City Ballet is not making similar sacrifices. (They share the same Lincoln Center stage). Changing the State Theater was largely City Opera's idea, she said; the company has long been unhappy with the stage, which was designed to muffle footfalls.
Rather than mounting full-scale productions that fall and spring, City Opera will present opera-in-concert performances and semistaged productions at a variety of sites that have yet to be determined, said Susan L. Baker, chairwoman of the company.
The plan, approved by the ballet and opera boards on Friday, would seem to leave the opera at a considerable disadvantage. The company will be virtually homeless for a year, potentially losing revenue, visibility and momentum. And City Opera will be away from Lincoln Center at a time when the Metropolitan Opera, its larger, wealthier neighbor, is attracting increasing attention and eating into the company's programming turf with more experimental fare under its new general manager, Peter Gelb.
Moreover, the plan calls for postponing the installation of a new acoustical apparatus for City Opera that can be removed for the ballet's season. It will not be part of the first renovation phase. "It's about keeping things manageable financially," said Barry S. Friedberg, chairman of the ballet.