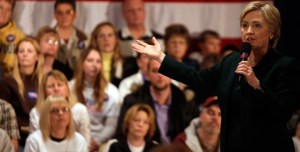 Hillary Clinton is after John Edwards, too.
Today, she is taking a sharper line that seems calculated to undercut Edwards' signature of fighting the special interests.
"These are great applause lines and speeches," she said, before "submitting" to the crowd that, contrary to her rivals, she has taken on and beaten special interests more than anyone else in the race.
"It's easy to talk," she yelled, before pointedly adding, "It's something you don't have to do by yelling and screaming. Save your energy, get the job done."
Just in case it wasn't clear, she added, "So instead of generating a lot of heat hate…and jumping up and down, figure out how you are going to beat them."
UPDATE: Here's a slightly fuller transcript:
"These are great applause lines and speeches and people get really excited. Because we all know that the power has shifted too much to the wealthy and the well connected and we have got to bring that power back but I submit to you that there isn't anybody running who has taken on more special interests and gotten more done and survived the incoming fire than I have.
"It's easy to talk. It's something you don't have to do by yelling and screaming. Save your energy, get the job done. Figure out how to get it done and make it happen."
Just in case she wasn't clear, she added, "So instead of like generating a lot of hate, rolling [your] hands and jumping up and down, let's just sit down and figure out how to beat them."
UPDATE: Jay Carson, a spokesman for the Clinton campaign, said, "Senator Clinton's remarks were not directed at any candidate and she is not about to get drawn into any back-and-forth three days before the caucus."