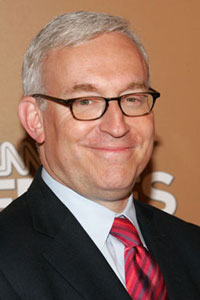 In recent days, Jonathan Klein signed a four-year contract extension to remain as president of CNN/U.S. Accordingly, Mr. Klein was in a good mood as he addressed staffers during a quarterly Q&A session at the Time Warner Center on the afternoon of Dec. 17.
CNN Worldwide, he told the troops, was enjoying its fourth straight year of double-digit profit growth. "It hasn't been the greatest news year," Mr. Klein said. "There haven't been major news events that have moved the needle. But overall, we're up pretty significantly, which is nice."
How significantly, he didn't say. But according to Nielsen data provided by CNN, through the end of November, the cable network's total day and prime time audience had increased by 3 percent overall and 5 percent in the crucial 25-54 demographic versus the same stretch last year.
Still, the network continues to chase Fox News in across-the-board ratings, and at the same time must fend off MSNBC, which so far has enjoyed a 20 percent jump in total year-to-date viewers over last year—thanks in part to the popularity of its late-night "doc block," which often features grisly true-crime narratives and repurposed Dateline programming.
"When they do that, they're really competing with Court TV," Mr. Klein later told NYTV in an interview in his office overlooking Columbus Circle. "They're saying, in effect, we give up trying to cover the news in any meaningful way. It enhances our brand. We're the last man standing in terms of covering the news. We love that."
In his newsroom talk, Mr. Klein addressed the biggest challenge facing his channel—namely, its long underperforming 8 p.m. slot, which regularly gets trounced by FNC's Bill O'Reilly and MSNBC's Keith Olbermann.
Mr. Klein suggested that Campbell Brown's new 8 p.m. show, set to debut in February, would compete by being "more talk-oriented," by featuring fewer "formal pieces," and by on occasion capitalizing on Ms. Brown's sometimes-comic sensibility towards the news, à la Comedy's Central The Daily Show. "Jon Stewart should not corner the market on innovative uses of tape," said Mr. Klein. "He wishes he had access to the amount of material we get in every day."
He also laid out some goals for 2008, telling staffers that in the coming year he was aiming for CNN to significantly boost its morning ratings, to win the 10 p.m. prime time hour, where Anderson Cooper currently trails Fox News' Greta Van Susteren, and to establish CNN as the go-to destination when "people think about watching politics."
Throughout the afternoon, Mr. Klein spoke of TV viewers not in terms of the usual demographic distinctions, but rather in terms of four distinct archetypes, which, he said, a recent internal CNN study had analyzed at length. He told the staffers that they should not worry about attracting "couch potatoes" who turn on the TV and stick with whatever happens to be on, and "thrill-seekers," who tune in looking for the ultimate car chase or building demolition. Instead, he encouraged the newsroom to do a better job of attracting "inquiring minds" (viewers looking to ruminate in depth on current events) and "social connectors" (people looking for stories to yap about with their buddies).