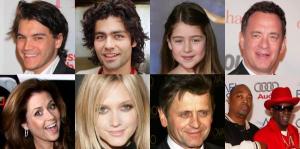 Because cases of mistaken celebrity identity can be really annoying, here follows a list of some stars—most of whom are out-of-towners—in New York over the next seven days. So if you happen to find yourself at, say, Da Silvano on Wednesday night and could swear that Tom Hanks is sitting at the next table over, you'll know that it's probably him. (Mr. Hanks comes to town today to promote his new film, Charlie Wilson's War.)
Herewith, some other stars in town to push a little flesh this week:
Emile Hirsch: Back for more interviews and TV appearances to promote Sean Penn's Into the Wild.
Adrian Grenier: To co-host the 2nd anniversary "Charity: Water" event tonight, which raises money to build potable water wells in Africa, at the Metropolitan Pavillion on West 18th St.
Ashlee Simpson: Will premiere the video for her new single, "Outta My Head," on MTV's TRL today.
Rachel Covey: The star of Enchanted will don an elf costume for Animal Fair Magazine's 2nd annual Toys for Dogs benefit tonight at Touch on West 52nd St.
Mikhail Baryshnikov: The Russian dancer will star in the New York Theatre Workshop's Buckett Shorts tomorrow on East 4th St.
Paula Poundstone: Slated to perform at the Blender Theater at Gramercy on Saturday night.
Jenna Fischer: Will conduct interviews and TV appearances to promote her role in Columbia Pictures' Walk Hard: the Dewey Cox Story.
Public Enemy: To take the stage at two concerts, on Dec. 19 and 20, at Fillmore New York at Irving Plaza and Warsaw in Brooklyn, respectively.