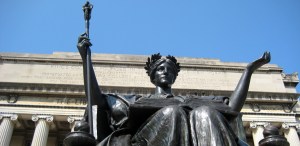 Nick Sprayregen and Columbia University, who have been staring each other down over the ownership of four properties in West Harlem, are going to talk again tomorrow, Mr. Sprayregen said.
It would be the first time in more than three years. At that time, Mr. Sprayregen made it clear he did not want to sell his properties to make way for the university's expansion as long as Columbia was threatening eminent domain.
"I want to keep my properties where they are," Mr. Sprayregen told The Observer today outside of a City Council public hearing on the expansion. "Failing that, I would entertain a swap of a few properties across the street so that I can remain in the community. But besides that, unless they want to first take eminent domain off the table or are forced to, I do not want to negotiate my removal."
He said he did not know what Columbia wanted to discuss, but that he received a call a few days ago from the office of Robert Kasdin, the university's senior executive vice president who is in charge of the expansion. He outlined the property trade he is thinking of to The Observer and other newspapers back in September, but has not approached the university with the idea directly.
Columbia does not, as a rule, comment on negotiations. However, earlier today, Mr. Kasdin said to the City Council that the school had decided not to acquire the Cotton Club and turn the property, at 125th Street and 12th Avenue, into a park as it had considered doing earlier this fall, but instead would preserve the famous music venue at the current location somehow.