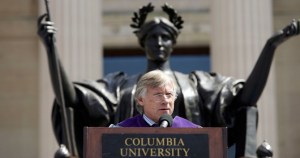 Lee Bollinger, the president of Columbia University, knew from the get-go that in order to expand, he had to win over Harlem. He and his aides went to great lengths to get neighborhood leaders to see what a new campus could do for them.
Somehow, months or even years later, Harlem, or at least a vocal portion of it, is still not convinced. At a Dec. 12 City Council hearing, Mr. Bollinger drew a groan from the audience when he posited that there existed "a sense that we have established trust between Columbia University and the surrounding neighborhood"—a groan that was loud enough to draw gaveling and an admonishment from the City Council member chairing the meeting.
The opposition may not matter in the end: The City Council was expected to ratify on Dec. 19 or, at the latest, by mid-January, with just a few symbolic "nay" votes, the rezoning that would make the 17-acre campus in West Harlem possible.
But why, if the university spent all this time—not to mention money—trying to reach out to Harlem, do so many people feel that Columbia has not been listening?
Early on, Mr. Bollinger spoke of the need to overcome the town-gown tensions of the past, and several instruments were set up to forge a cooperative relationship. Community advisory meetings were held and a turning point in the relationship was promised.
"I think now I was incredibly naïve in thinking that we could work together on this," said Jordi Reyes-Montblanc, the chairman of the local community board. "They did nothing to actually change their plan when we raised objections to it."
A pastor of a West Harlem church on the edge of the expansion zone, the Rev. Earl Kooperkamp of St. Mary's Episcopal, was more moderate in his appraisal, though nonetheless skeptical.
"Columbia has resources and a good vision, and that's a good thing," he said. "But all too often there has been a dialogue to the deaf. I'm not sure Columbia has been hearing it."
To some extent, any plan to build seven million square feet of anything anywhere would run into resistance. The transformation of the proposed site—most of it between Broadway and 12th Avenue from 125th to 133rd streets—would be total. A low-slung manufacturing area with dissolving sidewalks is about to be turned into a new-fangled campus with gleaming 25-story buildings. Just two or three historic buildings are to be preserved under Columbia's plan. The current residents would be moved, somehow with their consent.
From Columbia's perspective, the move would be historic, comparable to the decision to move to Morningside Heights over 100 years ago. The new campus would address a severe space deficit that Columbia says it suffers compared to other top schools, and add enough floor area to grow for another 30 years.
But in this case, Columbia's history with the community, the nature of the opposition it faced and the awkwardness with which it stated its case conspired to make the expansion a particularly difficult sell.
It was clear from public hearings that the memory of the university's attempt to build a gym in Morningside Park lives on strongly, even though it happened almost 40 years ago. "Don't trust Columbia University," Councilman Charles Barron, an East New York Democrat, proclaimed at last week's City Council meeting. "History has shown that they cannot be trusted."
On top of that, Harlem's well-organized tenants groups, already upset about gentrification that it could not control, saw in Columbia an enemy it could recognize and fight. They launched a no-holds-barred assault on the plan, booing Mr. Bollinger, and even former Mayor David Dinkins, a Columbia professor, when they spoke in support of the expansion at a public hearing in August.
The opposition may have turned off political leaders, but it energized its base with a clear message: Columbia was an outsider eating up Harlem. The university tried to defuse this argument by pledging that it would not seek to use eminent domain to displace residents, only businesses. Yet the distinction was publicized only late in the game, and it did not do anything to temper the objections of two commercial property owners who did not want to sell to Columbia. One, Nick Sprayregen, hired a lawyer and publicist to fight it. The other, Anne Whitman, supported an opposition group, the Coalition to Preserve Community, by contributing money to pay for photocopies and the like, according to Tom DeMott, a founder of the CPC.
Columbia, on the other hand, seemed to be spreading several messages. One was that it was misunderstood. Mr. Bollinger, for instance, told The Observer in January that the relationship with Harlem was "quite positive, much better than it was, and not as appreciated as it ought to be." He went so far as to say about surrounding residents, "Their lives will be very significantly improved by Columbia's presence. If I didn't believe that, I would not have reached the decision to go there."
Meanwhile, other officials and university brochures tried to play up how much the school already was doing for Harlem by advertising its community health services, a legal aid clinic and the fact that 30 percent of its workforce lived in Upper Manhattan. They trumpeted a "Columbia-assisted" public high school that would be located on the new campus—although, the university's senior executive vice president, Robert Kasdin, said last week that Columbia is not paying for the construction of the school, just the property on which it will stand.