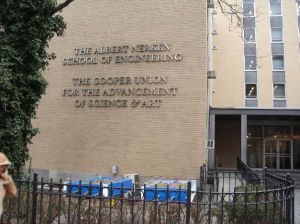 Cooper Union seems to be moving closer to selling its engineering building at 51 Astor Place, as it recently bought itself out of a clause with the city requiring that the building be used solely for educational use, property records show.
The New York Post reported in March that the college was shopping the building around, though no buyers have emerged publicly since. (Studley's Woody Heller, who, as of March was representing Cooper Union on the sale, declined to comment.)
Amending a 1959 agreement with the city, Cooper Union paid $979,750 earlier this month to the Bloomberg administration to drop a restriction that the building be used for "educational purposes only." Though, it looks like either the university or some other institution will retain use in part of the site, as the amended agreement requires that at least 40,000 square feet of the site be used for education, according to property records.
A spokeswoman for Cooper Union did not immediately respond to a request for comment.
(Ehrenkrantz Eckstut & Kuhn Architects have a development study of the site posted on their Web site here).