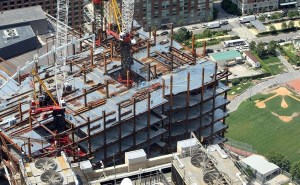 Editor's note: This is an update to an earlier breaking news story.
A construction accident at the site of Goldman Sachs (GS)' new world headquarters downtown injured one worker this morning, as a crane dropped a seven-ton cargo load on a trailer, according to preliminary reports from the Fire Department and Department of Buildings.
The crane, located on the 30th floor of the tower-to-be, was lifting a load of metal wall studs when its nylon sling failed, according to a Department of Buildings statement on the accident. The debris fell onto a construction trailer below, injuring a male worker inside.
The incident marks the second high-profile accident within two months for Tishman Construction Corp., the large New York-based contractor that is building the Godlman Sachs tower at 200 Murray Street. In October, a cart fell from the 53rd floor of Douglas Durst's Bank of America Tower, under construction by Tishman, showering the streets below with shattered glass and debris. Eight received minor injuries from the accident.
The city ordered a stop to crane activity at the Goldman site, where 30 of the tower's 45 planned floors have been erected.