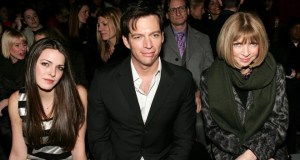 Bee Shaffer can now make her bedtime. Marc Jacobs' fall fashion show will no longer occupy that oh-so-annoying-but-I-kinda-love-it 9 p.m. time slot, which normally becomes 11 p.m. before any clothes are actually seen. Now Mr. Jacobs' collection unveiling, arguably the most "important" runway event in New York, will supposedly begin at 7 p.m. Not to fear, Upper-East-Siders—it will still be held in the New York State Armory on Lexington Ave.
Mr. Jacobs' business partner, Robert Duffy, said the switch was made "to give Marc as much time as possible to have the best show possible." He then sort of switched back on himself, saying that the new, earlier hour would be more convenient for Mr. Jacobs' audience. "I'd rather we be inconvenienced than everyone else."
Apparently, the fashion label, which has never been known to pander to anyone, has been receiving complaints from people who end up missing dinner because of the late starts. "I cannot guarantee Marc won't be late. One thing I do know is that he will try to have the best show he can, and [to do that] he will want to finish every piece and make each one as beautiful as possible. If it comes late, it comes late. This way, even if he's two hours late, people can still go to dinner at 9 or 9:30," Mr. Duffy said.